Showing 1 to 10 of 10 results
Sleeps: 6 in 3 units/rooms
From R 2 300,00
Per unit, per night.
Self Catering House, Cottage, Chalet Accommodation in Paradise Beach, Langebaan
El Sueno de Helena self catering house situated in Paradise Beach, Langebaan offers 3 bedrooms with 2.5 bathrooms. Very safe double security gated village with entire private beach only for residents.
Nearby Listings
From R 3 500,00
Per unit, per night.
On the beach front, close to restaurants and shops, Greystones Beach House provides luxury self-catering accommodation for eight people. Ideally situated for watersports, bird life and wild flowers of Langebaan Lagoon.
From R 1 100,00
Per unit, per night.
Seagulls Guest House provides self catering flatlet accommodation in Langebaan, Cape West Coast. We provide affordable, fully-equipped and neat self-catering units, designed to cater for intimate couple's vacations or fun family getaways or large groups o
From R 3 000,00
Per unit, per night.
Langebaan Beach Cottage offers wonderful self catering accommodation in Langebaan, Cape West Coast. Experience the splendor of Langebaan, situated 122km from Cape Town on the banks of the lagoon, alongside the West Coast National Park. The Posberg Reserve
From R 1 600,00
Per unit, per night.
Whimseagull offers self catering accommodation in Jacobs Bay, Cape West Coast. Come replenish your soul in a fully equipped holiday home in idyllic Jacobsbaai - as it is known locally. In a world where proper planning is valued, this is one occasion when
From R 800,00
Per unit, per night.
Aloe Halt offers up to 6 guests the opportunity to stay in a spacious, yet intimate cottage about 160m from the beach. Walkways ensure easy access to the beach. Relax on the patio and enjoy the birdlife attracted by the various indigenous aloes in the gar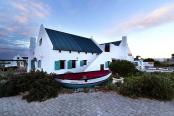 From R 1 250,00
Per unit, per night.
Accommodates 1 to 4 people. Two double en-suite bedrooms, one with sea views, each containing two single beds. Fully equipped kitchen/dining. Outside patio with braai, beautiful sea and bay views. All linen & towels provided except for beach towels.
Starfish is a fully-equipped luxury self-catering beach cottage in the unique fisherman's village of Paternoster. It has 3 bedrooms, sleeps 6. The sundeck allows you to enjoy the tranquillity of Paternoster with 360 degrees views.
Sleeps: 7 in 2 units/rooms
From R 450,00
Per person, per night sharing.
COTTAGE 1 bedroom..king-size bed(twins optional)..sleeps 2+1 extra in lounge .VILLA 2 bedrooms en-suite..main with bath, shower and king-size bed (twins optional)the other with shower only and twins..sleeps 4+2 extra in lounge..seaviews..both 3 Star
From R 2 200,00
Per person, per night sharing.
Baleine Vue is a self catering cottage situated on the beach front in the quaint and picturesque West Coast fishing village of Paternoster.
Paradise Beach, Langebaan Overview
Paradise Beach, Langebaan Accommodation
Cape West Coast Self Catering House, Cottage, Chalet Accommodation
Western Cape Self Catering House, Cottage, Chalet Accommodation