Showing 1 to 9 of 9 results
Sleeps: 16 in 5 units/rooms
From
R 650,00
Per unit, per night.
Kusane Farm Cottage is perched high above the stunning Karkloof valley, midway between Howick and Curry's Post on the Midlands Meander, with its fine restaurants and shopping.
Sleeps: 6 in 3 units/rooms
From
R 400,00
Per person, per night sharing.
Amberleigh Guest Farm is a working farm situated in the Kwa Zulu Natal midlands 12km outside Howick, easily accessible from the N3 highway.
Nearby Listings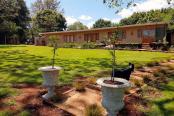 Sleeps: 20 in 8 units/rooms
From
R 800,00
Per unit, per night.
6.6km West of center of Howick
Sleeps: 20 in 4 units/rooms
From
R 540,00
Per person, per night sharing.
7.0km South East of center of Howick
Little Fields is a small piece of rural heaven in the Kwazulu Natal Midlands. Set just outside of Hilton, overlooking fields and pastures, this guesthouse offers you a tranquil setting in which to catch your breath.
Sleeps: 28 in 3 units/rooms
From
R 390,00
Per person, per night sharing.
7.5km South West of center of Howick
Hillhouse Accommodation was featured in Elle Decoration - The Country Issue June/July 2013. Also in House and Leisure - The Travel Issue, 101 Dream escapes in May 2015. Again in Getaway mag 2015 and Midlands life in 2008.
Sleeps: 46 in 18 units/rooms
From
R 1 000,00
Per unit, per night.
7.8km West of center of Howick
St Ives Lodge and Venue is situated in the heart of the Lions River Valley in the KZN Midlands. This 140-hectare Family Owned & Managed Estate offers something for everyone. The Estate Boasts A Luxury Lodge with Wild Animals Roaming the Grounds...
Sleeps: 4 in 2 units/rooms
From
R 500,00
Per person, per night sharing.
18.3km South West of center of Howick
Millford Farm has magnificent suites available for B&B guests each with a private entrance. They have been beautifully decorated by Kate in a most elegant and tasteful manner. In the Victorian style bathroom you will find a slipper bath with hand ...
From
R 290,00
Per person, per night sharing.
26.9km South of center of Howick
As you step out of your car, you will be welcomed with big smiles from Maddy, Squeak and Milo, our furry friends! "A peaceful and calm homely environment" - The Boston T Party - Rustic Accommodation - is situated in the centre of the small village ...
From
R 1 000,00
Per unit, per night.
49.1km West of center of Howick
The cottage on Lake Zonk is an ideal getaway. Situated only a few metres from the waters edge, it provides spectacular views and easy access to water based activities.
Midlands & Battlefields Guest Farm Accommodation
KwaZulu-Natal Guest Farm Accommodation
WhereToStay offers a communication facility for all of your Howick guest farm accommodation investigations. We will connect you with the various Howick Guest Farm owners in order for you to finalise any special queries or requests that you may have, before booking.
We strive to recruit special Howick guest farm categories which will probably include self catering Howick guest farms or catered guest farms.

Howick Guest Farms Star Graded - This will display a list of Howick guest farm accommodation properties that are regularly visited by SA Tourism Grading Council (SATGC) - This is always a safer bet.

You can find all Howick guest farm accommodation via our Map Search or our other simple Quick Search options and Special Categories on WhereToStay.
You may get lucky and find some of our Howick Guest Farm SPECIALS that are advertised from time to time - look out for the "Accommodation Guest Farm Specials" on our multitude of Howick farm accommodation listings.

The Howick guest farms are privately owned and will generally have very limited small game on the premises. Howick guest farms can sometimes be a little rustic, but this ads to the experience and should not be a deterrent.

Howick plaas akommodasie and Howick plaas blyplekke would be the Afrikaans equivalent search phrases (use Google translations if necessary)

WhereToStay bied 'n komunikasie fasiliteit vir al jou Howick gasteplaas akkommodasie ondersoeke. Ons sit jou in kontak met die verskillende Howick plaas blyplek eienaars sodat jy enige spesiale navrae of versoeke wat u mag hê kan finaliseer, voordat jou bespreking voltooi is.
Ons streef daarna om spesiale Howick plaashuis akommodasie kategorieë wat waarskynlik sal insluit selfsorg Howick gasteplaas blyplekke.

Howick gasteplaashuis akkommodasie stergradeer - Dit is altyd 'n veiliger verbintenis - Dit sal 'n lys van Howick gastehuis plase wat gereeld deur SA Toerisme Raad gradering (SATGC) besoek vertoon.
Jy kan al die Howick gasteplaas akkommodasie vind deur middel van ons Kaart Soek of ons ander eenvoudige vinnige soek opsies

Miskien is jy gelukkig en bespreek in een van ons Howick plaas blyplek SPECIALS wat gereeld geadverteer word. - kyk uit vir die "bosveld Specials" op ons menigte van Howick plaasakkommodasie volledige lys.