Homtini Pass lies 6th in the string of Seven Passes that fall between George and Knysna, the narrow, gravel pass covers 5km of wonderfully scenic driving, and decends to the river from which it takes its name. The pass ends at the Rheenendal Timber Mill and is also known as the Goukamma River Pass.

As the pass is a gravel road and prone to corrugations and flood damage, the speed limit has been set at 60kph and takes approximately 12 minutes to drive, excluding stops. There are some very sharp bends on this pass, one in particular is an almost 180 degree turn, a true hairpin! The pass is not suitable for heavy vehicles. It is advised that people using the pass should watch out for wild animals (especially baboons). This road is frequented by cyclists, so please be cautious!

A name that comes up time and time again in popular passes and original road engineering is that of Thomas Bain, and Homtini Pass is no exception. It was constructed in 1882 by the government Roads Engineer, Thomas Bain, and Charles Osborne, and as mentioned was the final pass of the Seven Passes. Bain took on the project of building a proper road between George and Knysna in 1867, which would include traversing 10 rivers and 7 gorges and would cover a distance of 75 kms. Bain started at the Knysna end and left his brother in law, Adam de Smidt, to deal with the George side of the route. The pair disagreed vehemently about the routing of the road, which led to bitter acrimony and a lifelong "no speak" scenario. The road served as the main route between the two growing towns for 70 years, before the new national road (N2) was opened in 1952.

There is some confusion in respect of which the 7 Passes officially are. And no we know we are listing 8 and the reason for that is that research shows that there are in fact 8 passes: Starting from George in the West, they are: The Black River Pass (Zwartrivierhoogtepas), the Kaaimansgat Pass, the Silver River Pass, the Touw River Pass (Duiwelskop Pass), the Hoogekraal Pass, the Karatara Pass, the Homtini Pass (Goukamma River Pass) and the Phantom Pass. Some references dont acknowledge the Black River Pass and others dont recognize the Silver River as a pass. The most common version is that the Silver River pass is technically part of the Kaaimansgat Pass. Early references show the Black River Pass to have been very challenging for ox-wagons, but the new modern tarred road almost leaves one with a sense that there is no pass there at all.

When in the area why not visit the Big Tree at Woodville which is 800 years old and enjoy a short 30 minute circular route through beautiful indigenous forests.
Nearby Listings
From
R 850,00
Per unit, per night.
5.5km North East of center of Homtini Pass
Elephant Rest is a private, tranquil getaway retreat experience. Situated on the edge of the awesome Lawnwood indigenous forest. Experience the peace and beauty of nature, abundant bird life, close to mountain biking, hikes, waterfalls, rivers for...
Sleeps: 6 in 3 units/rooms
From
R 730,00
Per unit, per night.
7.4km East of center of Homtini Pass
Cliffhanger is a luxurious self catering timber chalet perched on the edge of a steep drop into a forested valley with sweeping, un-spoilt views of the Outeniqua Mountains. The Hedge cottage is affordable accommodation in a lovely garden setting.
11.3km South East of center of Homtini Pass
Knysna Chalets is found close to the village of Knysna, which is a great place for shopping and dining with a brewery, top-class restaurants and lots of waterfront attractions.
13.3km South East of center of Homtini Pass
Knysna is situated in the heart of the Garden Route. Oyster Creek Lodge Bed & Breakfast is positioned on the tip of The Point, surrounded by the beautiful Knysna Lagoon on 3 sides with spectacular views from the rooms.
13.7km South West of center of Homtini Pass
Forget-Me-Not a Romantic Canadian Log Home, Double Storey, Thatched. The whole house is booked as a Self Catering unit.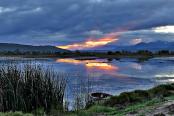 13.7km South West of center of Homtini Pass
This is a private and luxurious, upstairs Self-catering Apartment that overlooks the Swartvlei Lagoon and sleeps 2 people. This accommodation is ideally suited for overseas visitors with longer stays in mind.
13.9km South East of center of Homtini Pass
This is very tranquil accommodation, situated on the northern side of the Knysna lagoon with its natural ebb and flow of the tide and is part of a natural bird sanctuary. Best value for money accommodation!
14.0km South East of center of Homtini Pass
Villa Castollini is a five star Tuscan-styled Guest House that overlooks the beautiful Knysna estuarine bay. Perfectly positioned on the western Head of the famous Knysna Heads, in the heart of the Garden Route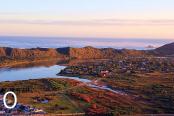 From
R 1 350,00
Per unit, per night.
14.2km South West of center of Homtini Pass
This is the perfect holiday house (8 sleeper) to spend a relaxed carefree holiday in Sedgefield.The house has a spacious open plan living area, 4 bedrooms, 2 full bathrooms and a well equipped kitchen. A large covered patio onto a garden allows you
From
R 1 800,00
Per unit, per night.
14.2km East of center of Homtini Pass
This stylish, contemporary holiday home with stunning views of the Knysna Lagoon and Knysna Heads is perfectly appointed for those wishing for a beautiful venue from which to explore Knysna.