SPECIAL ALERT! Receive early notifications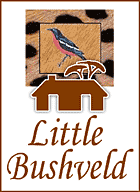 Location & Contact Details
Address:
Erica Street Plot 71
Bon Accord Agricultural Holdings
Pretoria (Tshwane)
Gauteng
South Africa
Contact :

Riekie & Andre

INT Fax :

086-6650003

Cell (1) :

083-2408650

Cell (2) :

083-2850580
Our facilities:

Littlebushveld with its very private Selfcatering Chalets is ideal for a real "Slow-Life" experience

Only 18km from the city centre of Pretoria is this gem of virtually unspoilt bushveld where the morning calls of Crimson Breasted Shrikes, Guineafowls and Bush Partridges wake you. Tucked away amongst Acacia trees and at the far end of a cul-de-sac you will experience peace and tranquility unknown so close to a big modern city

Established on a smallholding with a number of private chalets all offering the comfort and amenities you enjoy at home with an equipped kitchen/kitchenette in every chalet, bathroom for your private use, private braai areas and shaded areas to sit and relax

We also offer a 'bushcamp' with down-to-earth but excellent facilities to enhance the bush atmosphere. You are guaranteed a 'bush-experience' unheard of so close to a big modern city with a small en-suite bathroom for night-use as well as an outside 'bush-shower' in a boma under a huge acacia tree providing an exciting open air shower experience - very private - the birds will however be able to observe :-)

Very quiet and safe environment protected by electrified perimeter fencing. Shaded and safe parking provided

Our facilities are for those who want to take a quiet "Slow-Life" break from the rushed modern life and just want to enjoy the peaceful bushveld environment!

A very, very relaxing time is a definite promise!

Our chalets are all fully equipped for selfcatering. You will do the servicing of the chalets yourself to ensure your privacy at all times

Our Guineafowl Chalet sleeps up to 4 (1 chalet)
Guineafowl Chalet is a beautiful and spacious 7m x 4m single room thatched chalet
Furnished with antiques comprising a double bed, 2 single beds, wardrobe, dressing table, dining table and chairs
Also fridge, fan, heater, kitchenette with 3-plate stove and oven as well as a micro wave oven
Secluded area outside to relax and braai
Adjacent ablution, for your private use only, separate from chalet with toilet, shower and washbasin
Shaded parking
DStv with a bouquet of channels (M-Net; 6 Movie Channels; Discovery Channel; KykNet; 7 Sport Channels; e-TV; SABC 1, 2 and 3 and various life Style Channels)
Securely fenced
Our Impala Chalet sleeps up to 7 (1 chalet)
Impala Chalet is a spacious 2 bedroom house with full amenities
Furnished with a double bed in the main bedroom, 2 single beds in the second bedroom, a further 3 single beds in the lounge area, dressing table, wardrobes, dining table and chairs and lounge suite
Also large fridge, fan, heater, full kitchen with full stove and oven as well as a micro wave oven
Full bathroom with bath and separate shower
Shaded parking
DStv with a bouquet of channels (M-Net; 6 Movie Channels; Discovery Channel; KykNet; 7 Sport Channels; e-TV; SABC 1, 2 and 3 and various life Style Channels)
Securely fenced
Our Partridge Chalet sleeps 2 persons (1 chalet)
Partridge Chalet is a beautiful 5m x 4m thatched chalet furnished with antique furniture comprising a double bed, wardrobe and dressing table
Also a bar fridge, fan, heater, breakfast nook, 2-plate stove and oven as well as a micro wave oven
En-suite bathroom with toilet, washbasin and shower.
Outside patio to relax and braai under big shaded tree
Very pleasant private atmosphere tucked away amongst the trees
Shaded parking
DStv with a bouquet of channels (M-Net; 6 Movie Channels; Discovery Channel; KykNet; 7 Sport Channels; e-TV; SABC 1, 2 and 3 and various life Style Channels)
Ideal for a couple wishing to strengthen their relationship in a quiet and private setting
Securely fenced
Our Warthog Bushcamp sleeps up to 5 (1 unit)
Warthog Bushcamp provides for somewhat 'primitive' but excellent facilities to enhance the 'bush atmosphere'
Here we offer a big single room, cottage (17m²) with a double bed and 3 single beds situated in a private and fenced camp of about 3,000m²
Paraffin lantern and candles can be provided for a cozy atmosphere
Kitchenette with bar fridge, 2-plate stove and all selfcatering utensils
A small en-suite bathroom for night-use as well as an outside 'bush-shower' and ablution in a boma under a tree but very private
This facility is for those who want to enjoy the simple way of life!
A very exciting and relaxing time is a definite promise
Shaded parking available about 50m from the chalet - a trolley is provided for carting of luggage and supplies
Securely fenced
Our Skuurkie Chalet sleeps 2 persons (1 chalet)
Skuurkie is situated in a stone building with 2 single beds
Bar fridge, fan, heater, 2-plate stove and micro wave oven
En-suite bathroom with toilet, washbasin and shower
Shaded parking
Television with e-TV, SABC 1, 2 and 3
Securely fenced
Our Duiker Chalet sleeps up to 4 persons (1 chalet)
Duiker Chalet is a 2 bedroom chalet with full amenities
Furnished with a double bed in the one bedroom and 2 single beds in the second bedroom
Also fridge, fan, heater, full kitchen, stove as well as a micro wave oven
Full bathroom with shower over bath
Shaded parking
Television with e-TV, SABC 1, 2 and 3
Securely fenced
Situated in close proximity of :
Wonderboom Airport
Onderstepoort Veterinary Institute
Large shopping Malls such as Kolonnade and Wonderboom Junction
Directions
From the N1 (Pietersburg-Johannesburg) highway take Zambesi Drive offramp, drive to the west, turn right at the T-junction with Lavender Road - road to amongst others Hammanskraal, the R101, travel approximately 7,5 kilometers (past the Caltex garage and Spar supermarket on your right), then turn right into Erica Street, travel approximately 1,5 kilometers to the end of Erica street and then left at Holding 71 : Little Bushveld Guesthouse.
Payment Methods
Sorry, Credit cards not accepted
Facilities
airport (less than 15km)
braai / barbecue - onsite
car hire (less than 20km)
DSTV in room
horse riding (less than 5km)
kitchen (fully equipped)
microwave in unit
parking all onsite
private entrance
reptile park (less than 20km)
tea / coffee making facilities
water skiing (less than 10km)
Special Categories
Sleeps 10 or More Accommodation
Page Statistics
60832
page views since
19 Jul, 2005
. Last updated on
03 Jun, 2019
.