Unfortunately "Clanwilliam Hotel" is no longer listed.
Please take a look at some nearby listings, towns or points of interest.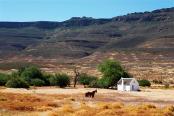 Sleeps: 23 in 6 units/rooms
40.7km North East of Clanwilliam Hotel
The philosophy at Enjo Nature Farm is a simple one: Escape, breathe, relax and chill. Not a difficult undertaking when the surrounding scenery leaves your mouth hanging open at every turn...
Instant Booking
Direct Enquiry
Call Direct