Showing 1 to 10 of 10 results
Sleeps: 14 in 8 units/rooms
Hotel / Boutique Hotel Accommodation in Hennops River
A place with a profound sense of peace, River Place Lodge makes one feel as if you're far removed from the city - the venue is, however, extremely accessible and is close to the major business centers of Gauteng.
Nearby Listings
Velmoré Estate consists of the Velmoré Hotel, a stunning establishment aimed at the affluent luxury market. The property also features a second hotel, the Velmoré Grande - the Grande is the ultimate in luxury and opulent excess, from its ov
13.2km South West of center of Hennops River
The Venue Country Hotel is located along the popular Magaliesberg R512 route (Pelindaba Road) between Johannesburg and Hartbeespoort Dam. Just 12 km past Lanseria International Airport, the hotel offers guests gorgeous views of the Magaliesberg mountain r
Kings & Queens Boutique Hotel, situated in The Reeds, Centurion, blends convenience and luxury into a fabulous accommodation experience.
Sleeps: 146 in 73 units/rooms
From R 595,00
Per person, per night sharing.
Leriba Hotel [Best Luxury Hotel in SA, AA Travel Awards 2011] is a 4 and 5 Star hotel that boasts 73 luxury en suite rooms, 20 conference venues, 2 full a la carte restaurants & walk in wine cellar and gymnasium and Wellness Centre.
Sleeps: 58 in 25 units/rooms
Valverde is a spacious country estate residence, offering accommodation in 12 luxury rooms. All the rooms have en-suite bathrooms and are appointed to ensure your stay will be one to be remembered.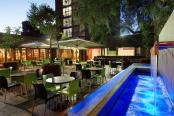 20.4km North East of center of Hennops River
The Hotel 224 was established in 1987 and through the years it has become the leader in budget accommodation in Arcadia, offering the visitor exceptional service and quality at a fractional rate of other similar hotels
Sleeps: 28 in 14 units/rooms
From R 725,00
Per person, per night sharing.
23.7km South East of center of Hennops River
The Oasis Boutique Hotel (owned by Grayham and Anita Beazley) offers travellers the opportunity to relax and unwind in safety and style. The Oasis Signature Hotel visitors 11 luxurious rooms in which to relax and unwind. Located near ...
From R 1 125,00
Per unit, per night.
The Blue Diamond Boutique Hotel is situated in Moreleta Park, 24 km from the centre of Pretoria and 5 minutes from Menlyn Main. Guests have free access to the swimming pool, fitness centre and hydro lounge in the hotels spa.
From R 1 630,00
Per person, per night sharing.
30.3km South East of center of Hennops River
The Inanda Club offers 10 lodge rooms located on the Inanda Club grounds, with safe, secure and private accommodations for those looking to be centrally located, as well as enjoy the outdoor environs and club facilities.
Back to Hennops River Overview
Tshwane - Greater Pretoria Hotel / Boutique Hotel Accommodation
Hennops River Accommodation Categories
Hotel / Boutique Hotel Accommodation
Hennops River Special Accommodation Categories