Unfortunately "Xisaka Guest House" is no longer listed.
Please take a look at some nearby listings, towns or points of interest.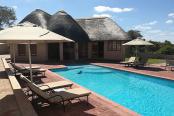 Sleeps: 6 in 3 units/rooms
3.4km North East of Xisaka Guest House
Vahlvi Guest House (VGH) is a lovely bed and breakfasted inn located in Kremetart, Giyani in Limpopo Provice, Republic Of South Africa just a few hours to Kruger National Park.
Instant Booking
Direct Enquiry
Call Direct