Showing 1 to 3 of 3 results
From
R 800,00
Per person, per night sharing.
Pronounced [.-xla:-ti:-ni:], (in the bush) is a place of quiet sophistication with an appreciation of and for Africa. Here nature surrounds your every move; a place of tranquil relaxation where our guests determine their own pace of day.
Nearby Listings
33.7km West of center of Mokopane - Potgietersrus
Klipkuile translates as 'Rock Pools' and refers to the unique natural rock pools in the Klein Sterkrivier ('Little Strong River') which is the heart of the Klipkuile lodge. Being just over 2 hours drive from Pretoria, Klipkuile is ideal for weeken...
Direct Enquiry
Call Direct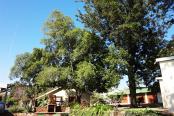 44.2km South of center of Mokopane - Potgietersrus
Panorama Guest House is an accommodation facility with a lovely Bosveld atmosphere, approximately 160km from Pretoria and only 4km outside Naboomspruit (Mookgapong), with 10 en suite rooms to choose from...
Direct Enquiry
Call Direct
Nearby Towns With Accommodation