Showing 1 to 8 of 8 results
The Venue Country Hotel is located along the popular Magaliesberg R512 route (Pelindaba Road) between Johannesburg and Hartbeespoort Dam. Just 12 km past Lanseria International Airport, the hotel offers guests gorgeous views of the Magaliesberg mountain r
Nearby Listings
Sleeps: 14 in 8 units/rooms
A place with a profound sense of peace, River Place Lodge makes one feel as if you're far removed from the city - the venue is, however, extremely accessible and is close to the major business centers of Gauteng.
Velmoré Estate consists of the Velmoré Hotel, a stunning establishment aimed at the affluent luxury market. The property also features a second hotel, the Velmoré Grande - the Grande is the ultimate in luxury and opulent excess, from its ov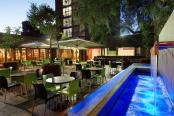 The Hotel 224 was established in 1987 and through the years it has become the leader in budget accommodation in Arcadia, offering the visitor exceptional service and quality at a fractional rate of other similar hotels
Hole in One Boutique Hotel invites guests to have a memorable stay in the luxury and comfort of our colonial style. Beautifully manicured gardens with water fountains and a sparkling swimming pool with comfortable seating allow guests to relax outdoors.
Sleeps: 28 in 14 units/rooms
From
R 725,00
Per person, per night sharing.
The Oasis Boutique Hotel (owned by Grayham and Anita Beazley) offers travellers the opportunity to relax and unwind in safety and style. The Oasis Signature Hotel visitors 11 luxurious rooms in which to relax and unwind. Located near ...
From
R 1 035,00
Per person, per night sharing.
The Syrene is a friendly, professionally run four star boutique hotel featuring the luxury of business class travel. As the name suggests our guests will experience a quiet, private and tranquil setting offering best in class accommodation and personalize
From
R 1 350,00
Per unit, per night.
Genesis All-Suite Hotel is situated in the leafy suburb of Fairmount atop a small shopping centre and offers lovely spacious apartments.
Hartbeespoort & Dam Accommodation
Eastern Region Hotel / Boutique Hotel Accommodation