Hans Merensky Nature Reserve
Hans Merensky Nature Reserve


The Hans Merensky Nature Reserve, also known as the Hans Merensky Wilderness is a protected area in Limpopo Province which was proclaimed a nature reserve in 1953. The over 5200 hectare reserve was named after the German South African Geologist, Prospector and Conservationist Hans Merensky. The reserve lies approximately 70km northeast of Tzaneen toward the Kruger National Park, an hour's drive from the Phalaborwa Gate and is located on the banks of the Great Letaba River, a tributary of the Olifants River, which offers great bird-watching opportunities.

The terrain is mostly flat lowveld grasslands dotted with shrubby mopane and combretum trees, quite lush in the rainy season, but dying back in winter to provide excellent game viewing at waterholes. The terrain also provides an ideal habitat for hundreds of interesting bird species, including the White-breasted Cuckoo shrike, Brown-headed Parrot, Raptors and Wood Sandpipers.

Hans Merensky is not a Big 5 reserve, but more of a wildlife sanctuary with hiking trails and family friendly facilities. Some of the wildlife that can be seen includes Sable and various other species of antelope, plenty of giraffe, wildebeest, warthog and zebra. Nocturnal predators include the shy leopard, black-backed jackal and hyena. Along the river you will also see hippo, giant monitor lizards and crocodiles. The reserve promotes its hiking trails, and has been involved in the breeding of Sable antelope and giraffe to stock other reserves since its proclamation in 1953.

There are three self-guided trails, each starting from the visitors centre: The Letaba Trail to the river, which involves an hour's walk. The Waterbuck Trail, a round trip of 12km. The Giraffe Trail, is an easy way to discover the beauty of the lowveld on foot. The 33km trail takes three days and begins and ends at the reserves offices. No more than 13km is covered each day which makes it perfect for beginners. The trails overnight overlooks a waterhole where a variety of game can be seen. Apart from the walking safaris there is also a self-drive option along a set route which includes a picnic and viewing spot that looks out over the whole reserve. There are also mountain biking trails and horse riding.

The Muti Wa Vatsonga Museum is a living kraal museum where you can learn about the Tsonga tribe's culture and buy Tsonga arts and crafts. There is also an educational centre. Another special feature of the Reserve is the hot mineral spring at the ATKV Eiland Spa.

The reserve is open daily throughout the year and is most popular in winter when temperatures are lower and game is easier to spot.
Accommodation Near Hans Merensky Nature Reserve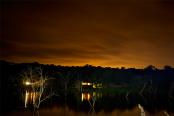 Sleeps: 20 in 7 units/rooms
42.0km South West of Hans Merensky Nature Reserve
Mowana Self-catering Chalets is situated in a safe and electrified fenced game farm 10 km outside Tzaneen on the Phalaborwa road (R71) in the sub-tropical Limpopo Louveld Province.
Direct Enquiry
Call Direct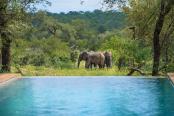 45.8km South East of Hans Merensky Nature Reserve
Toro Yaka, which means "My Dream" in Northern Sotho, is a one-of-a-kind lodge situated in the unforgettably pristine bushveld of Balule, a 30 000 hectare nature conservancy in the Greater Kruger National Park area.
Direct Enquiry
Call Direct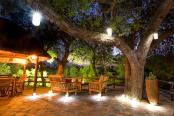 Sleeps: 12 in 5 units/rooms
46.1km South East of Hans Merensky Nature Reserve
Ku Sungula Safari Lodge is a Greater Kruger Park Safari Lodge in South Africa which exudes the romance and beauty of a bygone age whilst offering every day comfort and convenience. Your stay with us is an unique, personalized adventure in the South Africa
Direct Enquiry
Call Direct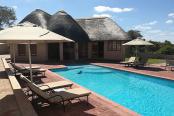 Sleeps: 6 in 3 units/rooms
46.3km North of Hans Merensky Nature Reserve
Vahlvi Guest House (VGH) is a lovely bed and breakfasted inn located in Kremetart, Giyani in Limpopo Provice, Republic Of South Africa just a few hours to Kruger National Park.
Instant Booking
Direct Enquiry
Call Direct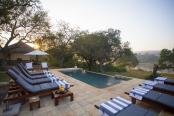 Sleeps: 8 in 4 units/rooms
47.5km South East of Hans Merensky Nature Reserve
The Lodge's perfect location makes it possible to see most of the highlights of her surroundings within one and a half hours reach. After a day of visiting the highlights of this beautiful province, come back home to Kurhula Wildlife Lodge...
Instant Booking
Direct Enquiry
Call Direct
47.5km South East of Hans Merensky Nature Reserve
Sangasava is a newly built, exclusive self-catering lodge in the Greater Kruger National Park, an unfenced area of 3.6 million hectares. The lodge has a total capacity of up to 8 (12) guests.
Direct Enquiry
Call Direct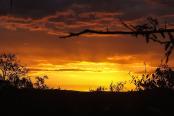 Sleeps: 12 in 4 units/rooms
48.1km East of Hans Merensky Nature Reserve
Come and experience the African Bush and it's wildlife close up. Inyanga Safari Lodge is situated in Grietjie Nature Reserve, which is a part of Balule Nature Reserve, It is in an open connection to Kruger National Park. Experience big 5 animals, at priva
Direct Enquiry
Call Direct
Nearby Points Of Interest