The land which was originally purchased in 1957 by local attorney, Bertie Stern, Chairman of the South Peninsula Dramatic Society now houses the Masque Theatre in Muizenberg, but it certainly didn't look the way it does now. The property comprised of a totally derelict building with no roof and four walls which had previously been a bowling alley. With the help of friends, the hard grind of do-it-yourself construction began, and finally when the building was finished, the struggle with the powers-that-be for permission to operate a theatre in a residential area would take another two years! Bertie insisted that it was multi-racial in what was then a non-multi-racial society and every possible obstacle was used to stop Bertie opening a theatre in which all races were welcome. On the 10th January 1959 Muizenberg saw the grand opening of The Masque Theatre. Bertie made the inaugural speech and emphasized that the Masque Theatre Club, as it was called, intended to combine the best players of all races from both amateur and professional theatre who were interested in the creation of a group with a permanent repertoire.

The Masque Theatre players staged many productions up until 1976 when Pam Ross approached Bertie and asked if the Bergvleit Dramatic Society (now Constantiaberg Theatre Players) could use the Masque for their productions. This was the beginning of other societies using the Masque Theatre as their home. Some well known performers of the early days were, among others, Alec Bell, Zoe Randall, Yvonne Bryceland, Percy Sieff, Frank Lazarus and the most recent success, David Kramer's Kat and the Kings in 1997.

But things took a disastrous turn in October 1997 when the Masque Theatre was gutted by fire! On the day of the fire a TV crew, a radio station and media reporters interviewed Celia Musikanth, acting Chairperson of the Masque Management Board, as to the future of the Masque. An extremely emotional Celia said The Masque Theatre will NOT die. It was a daunting task but the community rallied, sub-committees were formed and teams worked long and hard to ensure that the Masque remained alive. Many small, medium and large donations were made but the most generous donation came from the late Joan St. Leger Lindbergh who simply said I am in for a million!

Bertie personally ran the theatre until his death in 1993. Subsequently, his estate created the Masque Theatre Trust to own the property, but responsibility of administration and operating was to be undertaken by the Stern Masque Theatre Association. So what Bertie started in 1959 as a community theatre continues thanks to the overwhelming generosity of Joan and the incredible support (both financial and other) of so many wonderful people!

It is now a first-class venue, seating 174, able to host live shows (musicals, dramas, dancing, etc.), seminars, presentations, film shows, and so on. Facilities and equipment include dressing rooms, excellent lighting and sound equipment.

The Booking Office is open on weekdays from 10:00 to 16:00 and on Saturdays from 9:30 to 12:00 (only on Saturdays that a show is running)
Tel: +27-21-7881898
Or email: bookings@masquetheatre.co.za

Performance times are weeknights at 20:00 and Saturday Matinees at 14:30 and evenings at 18:30 unless otherwise stated.

Nearby Listings
Sleeps: 11 in 5 units/rooms
1.0km North West of center of Masque Theatre
Capeblue Manor House is situated in Lakeside, a suburb of Cape Town, South Africa. Tucked away in a quiet cul-de-sac at the foot of the imposing Steenberg Mountain the Manor House, built in 1927, has recently been restored to its original elegance.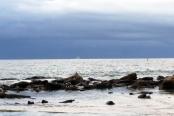 From
R 2 500,00
Per unit, per night.
* Rates may vary according to season
1.9km South of center of Masque Theatre
Stonehurst situated in St. James, Cape Town. The house is self-catering and can sleep 8 comfortably. 1 minutes walk to St. James tidal pool and a short stroll to Kalk Bay and Muizenberg. Whale watching from your bed!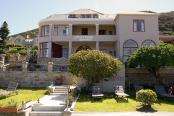 Sleeps: 13 in 5 units/rooms
3.0km South of center of Masque Theatre
Chartfield Guesthouse in kalk Bay evokes the spirit of a time when everything was done with a little more style and with a lot more attention to detail. It's a haven created to whisk you away from the cares of the world the moment you step inside...
Sleeps: 18 in 6 units/rooms
4.0km South West of center of Masque Theatre
Dunvegan Lodge offers luxury self-catering or bed and breakfast accommodation in spacious sunny rooms, each with modern en-suite bathrooms, TV with satellite, telephone, hairdryer, safe and, for those chilly evenings, underfloor heating and electric
From
R 1 475,00
Per unit, per night.
* Rates may vary according to season
4.7km South West of center of Masque Theatre
No.3 Riverside Mews is part of a secure cluster complex of only 11 houses situated in Banks road in Fish Hoek. Ideally located, the home is far enough away not to be disturbed by traffic noise yet close enough to be in easy walking distance to the...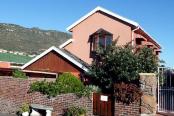 From
R 200,00
Per person, per night sharing.
* Rates may vary according to season
5.2km South of center of Masque Theatre
UPSTAIRS @ No. 42 is a real home from home with beautiful mountain views and conveniently appointed for a relaxing break. Drive into secure parking right at the entrance. Up the stairs you will find a lounge-dining-kitchen area - fully equipped with TV &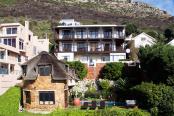 Sleeps: 21 in 6 units/rooms
From
R 1 400,00
Per unit, per night.
* Rates may vary according to season
5.3km South of center of Masque Theatre
Under New Management, A Whale of a Time is now owned by Archie Theunissen and Ivan York, two business partners who are committed to ensuring that your stay at A Whale of a time is a memorable one!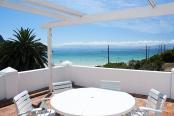 From
R 1 400,00
Per unit, per night.
* Rates may vary according to season
5.4km South of center of Masque Theatre
Come and stay in one of the original farm buildings in Fish Hoek, within a stone's throw of the beach.This self Catering Apartment provides spacious, well-appointed, up-market accommodation with magnificent views across False Bay.
Sleeps: 14 in 6 units/rooms
5.4km South of center of Masque Theatre
The villa boasts 6 spacious en-suite rooms named according to the direction they face. While each room has its own special attributes all rooms have Posturepedic beds, 100% percale cotton linen and down duvets. All the bathrooms have heated towel ...
5.5km South of center of Masque Theatre
Self catering family home situated on the Fish Hoek mountainside directly above the most popular swimming beach.