Green Building Conference and Exhibition

2012 will see the sixth return of the annual Green Building Conference and Exhibition. An exhibition that offers delegates presentations from some of the worlds leading Green Building speakers as well as an extensive exhibition of green building products and services, all combined with innovative design charrettes. The charrettes are practical group discussion sessions that are centred on the notion of collaborative design and are an opportunity to apply theory to a practical example. The Conference and Exhibition is held in association with South Africas industry professional institutes and attracts the leading decision making members of key organisations who are committed to learning about and embracing green building techniques. The wide variety of products on the exhibition floor make the event an ideal place to expose new green products to the industry.

Over the years the media coverage of the event has grown considerably and 2005s preliminary event guide was distributed to 70 000 Engineering News readers. Delegates at the event were provided with four types of content that take into account the changing green building requirements of design and construction professionals in South Africa, Inspirational International presentations from star architects and designers, Locally relevant plenary content from South Africa's thought leaders, Even more emphasis on practical, locally applicable, case study-based break away sessions as well as Current and new products, technologies and services available in South Africa.

In multiple forums at COP17, which was held in Durban South Africa in 2011, the built environment was again acknowledged as a primary contributor to climate change and a hot spot for accessing mitigation opportunities. The built environment was also highlighted for adaptive measures and interventions, fundamental to creating more climate resilient cities and communities into the future. The Green Building Conference 2012 will endeavour to answer the question, why has green building not become standard practice for new buildings and refurbishments in South Africa, by firstly presenting the results of a survey of building projects to ascertain the state of the market, together with a set of practical design and technological solutions available right now to meet the new energy efficiency regulations. The event will again showcase global and South African leadership in green building design with buildings featured from around the world and South Africa. Through their leadership building developers and their professional teams are demonstrating the leading edge of design through an integrated approach, and with quantifiable results.

Delegates are invited to attend this facilitated event which could emerge as watershed Green Building Conference, and to contribute to the outcomes expressed above.

Be a part of it!
Join South Africas leading property investors, owners and operators, as well as designers, specifiers, builders,suppliers and managers as we grapple with the often conflicting objectives inherent in achieving the perfect high performance building across multiple building types in the facilitated Design Charrettes.

The 2012 Green Building Conference and Exhibition will be held at the Sandton Convention Centre from 25 to 26 July 2012.

For more information and future dates please contact:
Tel: +27-21-4474733
Or email: info@greenbuilding.co.za

Directions to Sandton Convention Centre
Via the Ben Schoeman highway (traveling towards Johannesburg)
Take the Grayston Drive off-ramp, and keep to the left. Turn left into Katherine Street, continue until you reach West Road and turn right. Turn left into Alice Lane at the second set of traffic lights. Pass the Game store on your left hand side, at turn left into Sandton City Convention Centre's basement parking at the next traffic light. Alternatively, parking is available at Sandton City Shopping Centre. The best entrances are the Alice Lane entrance crossing over the Fifth Street entrance next door to the Sandton Sun. The skywalk from Sandton City Shopping Centre to the Sandton Convention Centre is best accessed from Level 4 parking at the Sandton Shopping Centre.

Directions from the N3
Take the Marlboro off-ramp, pass six traffic lights and turn into Katherine Street at the seventh traffic light. Continue until you reach West Road and turn right. Continue until you reach Alice Lane and turn left. Pass the Game store on your left and turn left into Alice Lane parking at the first set of traffic lights.
Nearby Listings
Sleeps: 4 in 2 units/rooms
3.6km South of center of Green Building Conference and Exhibition
La Bougain Villa is an elegant Bed and Breakfast in a quiet peaceful garden setting in the heart of Johannesburg's northern suburbs. Holiday makers and business executives are most welcome.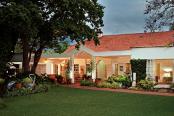 Sleeps: 8 in 4 units/rooms
5.1km South of center of Green Building Conference and Exhibition
Cotswold Gardens situated in the beautiful treed suburb of Saxonwold Johannesburg. Beautiful garden, a large sparkling swimming pool, with free standing sculptures and a variety of contemporary art inside the house.
5.3km South of center of Green Building Conference and Exhibition
Self catering accommodation in Parkhurst, Johannesburg. Including office area and within walking distance restaurants, shops and pubs. A sports club is on the boundary of the establishment.
5.3km North East of center of Green Building Conference and Exhibition
Acacia House Executive Suite is an exclusive private suite, comprising accommodation for a single business professional or a couple. Situated in Kelvin, a peaceful boomed suburb of Sandton, Acacia House is close to Sandton...
5.4km North of center of Green Building Conference and Exhibition
The Syrene is a friendly, professionally run four star boutique hotel featuring the luxury of business class travel. As the name suggests our guests will experience a quiet, private and tranquil setting offering best in class accommodation and personalize
5.4km North of center of Green Building Conference and Exhibition
Nestled in the leafy Northern Johannesburg suburb of Gallo Manor, a lodge of distinction and style awaits you. Situated on the prestigious Johannesburg Country Club Golf Course minutes away from the heart of Sandton.
Sleeps: 28 in 14 units/rooms
From R 745,00
Per person, per night sharing.
5.6km North of center of Green Building Conference and Exhibition
The Oasis Boutique Hotel (owned by Grayham and Anita Beazley) offers travellers the opportunity to relax and unwind in safety and style. The Oasis Signature Hotel visitors 11 luxurious rooms in which to relax and unwind. Located near ...
Sleeps: 100 in 50 units/rooms
From R 660,00
Per person, per night sharing.
5.7km North of center of Green Building Conference and Exhibition
Rivonia Premier Lodge is strategically located in Sandton, north of Johannesburg, with easy access to major highways. Situated in a quiet cul-de-sac with a large rambling garden. Guests can relax on the pool deck and enjoy a swim...
6.1km South West of center of Green Building Conference and Exhibition
Panhandle Place Cottages are lovely self-catering units in a beautiful garden setting with views of the city skyline. We are centrally placed in an old Johannesburg suburb with tree-lined streets, safe for walking and jogging.
Sleeps: 24 in 11 units/rooms
6.3km North West of center of Green Building Conference and Exhibition
The bedrooms are spacious, beautifully furnished and each has a bathroom en-suite, DStv, under-floor heating, fans and easy access to tea/coffee facilities. The restaurant offers and excellent quality of home cooked meals. Full English breakfast ...