Freshpak Rooibos Fitness Festival
The Freshpak Rooibos Fitness Festival is held in Clanwilliam in the Western Cape, South Africa. It is an annual event and is well supported by locals and visitors. The event is open to both novices and professionals. The day is enjoyed by competitors and spectators alike.

There's a variety of events for all fitness levels. There are a number of running, cycling and swimming challenges to participate in. The event is set against the picturesque backdrop of the Cederburg mountains which offers spectacular scenic views along the way.

All participants can choose from a variety of challenges from a 3 km long swim, a biathlon (5 km running, 20 km cycling), a duathlon (5 km running, 20 km cycling, 5 km running) and a triathlon (800 m swim, 20 km cycling, 5 km running). All these events are open to individual participants or teams.

There's also a variety of challenges for the younger participants, the FitKids (1km run, 200m swim and 1 km run) or the Fitness Challenge (2.5km run, 450m swim, 1km run).

The day is filled with events and Cash prizes, lucky draws and spot prizes will take place throughout the day. There is so much to see and do and the atmosphere is festive. Fun, laughter, good food and drinks, what more could you ask for?

For more information contact +27(0)21-914-1157.
Nearby Listings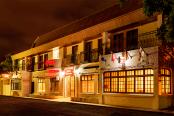 Sleeps: 84 in 42 units/rooms
From
R 950,00
Per unit, per night.
0.5km North of center of Freshpak Rooibos Fitness Festival
Clanwilliam Hotel provides hotel accommodation in Clanwilliam, Cape West Coast. Ensconced in the magical Oliphant's River Valley, Clanwilliam Hotel is situated off the beaten track. Only two hours drive from Cape Town, the hotel offers air-conditioned roo