Jack Scott House

In 1888 whilst working on the Strathvaal farm just outside Kleksdorp, Charles Scott discovered an outcropping gold reef which he then developed, the reef became known as Strathmore reef. Scott believed that the area to the east of Klerksdorp also contained a subterranean reef and it was his son, Jack Scott, who proved his theory true. It took Jack years of prospecting, from 1933 to 1939 when the Second World War broke out Jack searched the Klerksdorp area to no avail, but in 1945 he obtained options over the farm Stilfontein and portions of adjoining farms where his searching would come to an end. In 1947 the first borehole was sunk and at a depth of 2637 feet they intersected the Reef. In May 1949 two shafts (Charles and Margaret) were sunk and it was this success at Stilfontein that inspired the opening up of the Hartebeesfontein and Buffelsfontein mines.

The Margaret shaft at the Stilfontein mine was the first concrete headgear ever to be erected in South Africa and was designed locally and completely constructed form local materials. Tower mounted on this headgear was the first ever multi rope Koepoe hoist in South Africa.

Jack Scott became known as the father of modern day mining in South Africa. His home still stands in Klerksdorp, a tin house which was fully imported from Britain and can still be viewed today. Unfortunately the property in Buckle Avenue was damaged in 2009 by flooding and the Municipality has cordoned it off until it can be restored but it is still visible from the road.
Nearby Listings
Sleeps: 78 in 12 units/rooms
5.7km North West of center of Jack Scott House
AnnVilla Guest House has 6 newly built deluxe rooms overlooking a garden courtyard. Private entrances lead to the spacious rooms. The beautifully appointed rooms cater for the discerning traveler with quality touches, including comfortable workspa...
8.2km North of center of Jack Scott House
A new and exciting kid is on the block. This kid has class, style and packs a punch. The King's Chateau is a smart new Guesthouse that has opened its doors within the Wilkoppies heart of Klerksdorp.
Sleeps: 63 in 21 units/rooms
47.0km North East of center of Jack Scott House
Adato Guest House is a charming home situated in Potchefstroom close to the main attractions, shopping centers. hospitals, sport grounds and the university. The warm friendly atmosphere and comfortable, stylish accommodation is ideal for business ...
47.6km North East of center of Jack Scott House
Acorn Lodge offers 18 large, clean and affordable accommodation in Potchefstroom, and is centrally located close to the North-West University and a mall.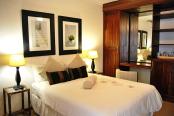 Sleeps: 38 in 15 units/rooms
From
R 550,00
Per person, per night sharing.
48.5km North East of center of Jack Scott House
Kumkani Country Lodge is centrally situated on 4ha next to the Mooi River and Golf course in Potchefstroom. Shopping centres and restaurants within walking distance. University/ sport facilities are within 5 km.
Sleeps: 18 in 5 units/rooms
From
R 300,00
Per person, per night sharing.
48.6km North East of center of Jack Scott House
All our cottages have private entrances and secure undercover parking. The comfort of our guests is ensured with an en-suit bathroom/toilet, fully equipped kitchen, breakfast nook and lounge with TV and satellite TV. Internet, e-mail, and fax ...