Louw House
The Louw House is situated in Sutherland in the Karoo area, South Africa. It is also known as the Louw House Museum. This house was built in 1861 and holds many memories and has a lot of history to its name. The two Louw brothers who were both poets and writers were born in this house. They went on to win many Hertzhog awards for literacy. The museum is an interesting visit and there are many other displays to see. It is currently a literacy museum and also honours other Sutherlanders who are remembered here.
Nearby Listings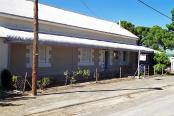 0.2km South of center of Louw House
Ideal for families wanting to share some time together or just getting to know each other again over a bottle of red wine, shared around a large kitchen table with the warmth of an old wood stove. The main house offers 3 bedrooms, two bathroom...
Direct Enquiry
Call Direct
Nearby Points Of Interest