Planetary Highway
The Planetary Highway is situated in Sutherland in the Cape, South Africa. The Karoo-Hoogland Municipality wanted to show the connection between the South African Observatory and Sutherland with a visual display. This was decided back in 2002 where a project was started. They chiselled building stone into pedestals and put them along the main street. Local Craftsman completed these pedestals with an artistic representation of the nine planets and their size in comparison to the sun. This display adds to the artistic charm of this town.
Nearby Listings
Sleeps: 15 in 5 units/rooms
From
R 320,00
Per person, per night sharing.
0.0km East of center of Planetary Highway
The Jupiter, B&B Guesthouse &restaurant in Sutherland is a business that was established to offer great stays, opportunity to meet people both local and other tourists, enjoy local cuisine and above all enjoy the freedom of relative crime free living
Direct Enquiry
Call Direct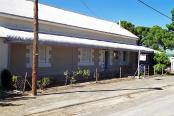 0.1km North of center of Planetary Highway
Ideal for families wanting to share some time together or just getting to know each other again over a bottle of red wine, shared around a large kitchen table with the warmth of an old wood stove. The main house offers 3 bedrooms, two bathroom...
Direct Enquiry
Call Direct
Nearby Points Of Interest