East Cape Biltong Festival
East Cape Biltong Festival

Biltong. Originating in South Africa, biltong is a form of cured meat, usually cut into strips, seasoned and then dried out. Many different types of meat are used to produce it, ranging from beef, chicken, through game meats to fillets of ostrich from commercial farms. A much loved tradional snack in South Africa, biltong received the honour of an anual festival dedicated to it in 1991. A Bedford farmer, Willem de Klerk, nature conservation groups, tourism sponsors and officials from the Blue Crane Route Municipality got together with other parties in order to celebrate this proudly South African snack. With 2011 seeing the 20th year of the festival, it promises all visitors a truly memorable experience. With over 20 artists expected over the two days, food to suit all tastes - with an emphasis on biltong, more than 300 stalls, and the opportunity to meet friends and just socialise late into the night in the Beer Tent and at the Bokjol. All visitors will be guaranteed of a great time in the lovely town of Somerset East. So come and enjoy this sensory overload at the foot of the Boschberg Mountain. Organisers assure visitors that children are also catered for and entertained by Popsie the Clown and her treasure trove of balloon animals and helpers.
The Castle Lager East Cape Biltong Festival 2011 will be held in Somerset East on the 15 and 16 July 2011.

For more information on the festival contact the Blue Crane Route Municipality:
Marette Liddell
Tel: +27-42-2431333 ext 6484
Nearby Listings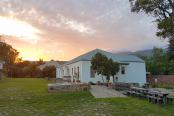 Sleeps: 22 in 9 units/rooms
0.1km South of center of East Cape Biltong Festival
The Angler and Antelope Guesthouse offers a unique experience on large landscaped grounds securely enclosed in the heart of the town. The venue has maintained the ambience of yesteryear with the comforts of the modern era.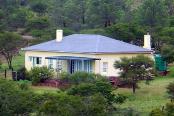 From
R 200,00
Per person, per night sharing.
9.3km North East of center of East Cape Biltong Festival
Comfortable 3 bedroom farmhouse sleeping 6 people. Gas lamps and candles for a real rustic experience. Accommodation 18km from Somerset East, less than 2 hours' drive from Port Elizabeth, and at the Northern entrance to the Addo Elephant Park.
Direct Enquiry
Call Direct