Unfortunately "The Platinum Guesthouse" is no longer listed.
Please take a look at some nearby listings, towns or points of interest.
Sleeps: 17 in 2 units/rooms
34.5km West of The Platinum Guesthouse
Klipkuile translates as 'Rock Pools' and refers to the unique natural rock pools in the Klein Sterkrivier ('Little Strong River') which is the heart of the Klipkuile lodge. Being just over 2 hours drive from Pretoria, Klipkuile is ideal for weeken...
Direct Enquiry
Call Direct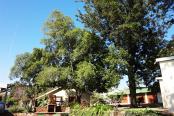 43.2km South West of The Platinum Guesthouse
Panorama Guest House is an accommodation facility with a lovely Bosveld atmosphere, approximately 160km from Pretoria and only 4km outside Naboomspruit (Mookgapong), with 10 en suite rooms to choose from...
Direct Enquiry
Call Direct