Unfortunately "The Jupiter Guesthouse" is no longer listed.
Please take a look at some nearby listings, towns or points of interest.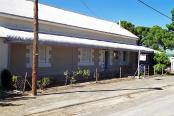 0.1km North of The Jupiter Guesthouse
Ideal for families wanting to share some time together or just getting to know each other again over a bottle of red wine, shared around a large kitchen table with the warmth of an old wood stove. The main house offers 3 bedrooms, two bathroom...
Direct Enquiry
Call Direct