Sand Forest Lodge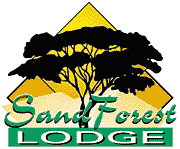 Location & Contact Details
Address:
False Bay Road
Hluhluwe
KwaZulu Natal
South Africa
Sand Forest Lodge is situated on a nature reserve on the edge of an ancient sand forest and lies 1.5km west of St Lucia Wetlands Park. The Lodge is a 20 minutes from the Hluhluwe/iMfolozi Game Reserve. Sand Forest Lodge is an ideal base in close proximity to many local attractions including St Lucia, Sodwana Bay.

Facilities include the Marula Tree Bar and restaurant, swimming pool, boma and sand forest bird and tree trail.

Accommodation:
Kingfisher/Cuokoo (Sleeps 4)
Family units with 2 bedrooms - 1 x Double bed and 2 single beds, shower room , kitchen, lounge, private patio and barbeque facility.

Woodpecker / Weaver (Sleeps 4+)
These chalets comprise of 2 family units, each with 2 bedrooms - 1 x Double bed and 2 single beds, an en-suite shower room, second bathroom, full kitchen, open plan lounge, private patio and barbeque facility.

Quail / Sunbird / Guineafowl / Hoopoe / Hornbill / Fisheagle / Falcon
There are 7 double chalets, which have either 2 single beds or 1 double bed with shower room's en-suite, mini kitchen, private patio and barbeque facility.

Chalets are fully equipped and serviced daily; all you need to bring is your food, drinks, drinking water, swimming towels and toiletries.

We have mosquito nets, overhead fans and air-conditioning in all rooms, we suggest that you bring peaceful sleep or tabard (insect repellent) for comfort.

We have 2 rustic, wooden bungalows that have double beds, overhead fans, mosquito nets, mini kitchens, private deck and barbeque facility. The bungalows DO NOT have air-con or en-suite shower/toilet facilities and share ablutions with the campsite.

There are camp/caravan sites situated on the edge of the forest, each have electrical points and private barbeques. Ablutions are shared with the bungalows.

Location:
Sand Forest Lodge is a comfortable 2 1/2 hour drive from Durban on the N2 toll road-travelling north. From Johannesburg the drive is approximately 6 hours.

Activities:
Meander through our sand forest, walk amongst the Wildebeest, Zebra, Impala, Steenbok and Duiker - sit a while and experience the ethereal atmosphere. Observe the many varieties of birds in the trees and the Mongooses running through the forest.

At the end of the day relax on your veranda and experience the evening sounds, the bashful Bush babies will be watching you from above, the cautious Genet Cats

will be peeping at you from behind the trees - the Giant Eagle Owl sits above and watches you all with a superior attitude and grunts his approval at the tranquil setting.

The region has a vast diversity of natural and cultural resources that are all within easy access to the lodge. Visualize an open vehicle game drive among the Big Five in the oldest park in Africa, walk the fossil lined shores, canoe or horse ride through the open water system and coastal sand forest of a World Heritage Site. These and other activities can be arranged from the lodge.

Hluhluwe/iMfolozi Park is the province's premier "Big 5" reserve, and one of the biggest in South Africa, covering 96,000 hectares of beautiful landscape, forests, hills, rivers and waterholes. It has the distinction of being the oldest formally protected area in Africa. The park is a 15-minute drive from us.

False Bay Nature Reserve is 2km down the road, meander through the park or picnic on the shore of False Bay, view fossils and observe the prolific bird life.

Mkuzi Game Reserve is a 1/2 hour drive north from our lodge, you may self drive through the reserve and perhaps take a picnic lunch which you could eat at the Nsumo pan - this pan covers a large area and is home to families of hippo and crocodile as well as terrestrial forest birds and a variety of aquatic birds, both fresh water and marine.

St Lucia is the gateway to the Greater St Lucia Wetlands Park, a World Heritage Site, unquestionably one of the world's greatest destinations, the largest estuary in southern Africa. Indulge yourself and walk along the many hiking trails where a variety of game and birds can be viewed or take a guided boat tour to view hippos, go deep sea fishing and whale or turtle watching, walk along the beaches and snorkel in clear warm water at Cape Vidal.

Diving and snorkelling can be arranged at Sodwana Bay & Kosi Bay - approximately 40 minutes from the lodge, Sodwana has a coral reef with 95 identified species of coral + over 1,250 species of fish have been identified here.

There is a Zulu Cultural Village 12 km down the road where you are able to watch Zulu dancing and view the village.

So yes - plenty to keep you occupied, if you don't feel like doing anything then you can just bask by the pool and enjoy the birds.

There are supermarkets in the village of Hluhluwe so all supplies are available locally.

Climate:
The hot summer months are from October to the end of February, temperatures reach between 35 degrees C to 40 degrees C during the day with high humidity levels. The days are long with sunrise at approximately 05h00 and sunset at 19h00, evening temperatures level at +/- 20 degrees C.

Winter temperatures are mild at approximately 25 degrees C during the day and dropping to +/- 12 degrees C at night. Sunrise is around 06h30 and sunset 17h30.

Malaria:
Malaria is endemic to the area, although low risk, it is advisable to consult your doctor before visiting the area during the summer months. Tick bites can occur and visitors are advised to take precautionary measures.

The Elephant Coast is one of South Africa's most beautiful and unspoilt areas. Few areas in Africa have the incredible diversity of fresh water eco-systems found on the coast. There are major rivers, broad plains, large coastal lagoons, deep clear coastal lakes, extensive swamps and semi-permanent pans. Abundant game and bird species and a wild variety of flora.

Visitors are encouraged to realize that this amazing area is a destination and not simply a stop-over!

We are active members of Elephant Coast Tourism association and feel highly privileged to live in the Kingdom of the Zulu - we invite you to experience our piece of heaven and become one with nature.

Please Note:

Day visitors are to advise the office of their presence and will be charged at R50 per person Check in is strictly between 14h00 & 18h00. Gate closes at 18h00 Departure is strictly by 10h00 All outstanding accounts must be settled in full on arrival Children MUST be supervised at all times Any breakages should be reported to the office and will be charged for Noise levels are to be kept to a minimum at ALL times No television allowed No loud music permitted No pets allowed Air-conditioners should only be used when you are in your cottage - please ensure that the windows and doors are closed. When exiting your cottage the appliance must be turned off. ALL meals are by arrangement - please speak to staff at reception No washing of cars permitted Vehicles are to ride on delegated roads only If for any reason you need to book out earlier than your reserved dates - there will be no refund Should you have a problem whilst staying at the lodge please contact Management immediately so that your dilemma can be rectified
E&OE
Awards & Accreditations As Claimed By The Establishment
National Accommodation Association
SABS Tourism - 3 Crystals
Directions
GPS Co-ordinates
27 degrees 58' 10,0" S
32 degrees 23' 03,5" E

From Hluhluwe Off-ramp:

From the N2, take the Hluhluwe/Sodwana Bay
off-ramp. You must follow the signs toward Sodwana Bay/False Bay Park. Drive through the village and turn LEFT at the fourth circle (you should see Allan's Butchery in front of you before turning).
After ± 1.6km on this road, turn RIGHT over the railway line into Sodwana Bay Road. After approximately 6km, turn RIGHT into False Bay Park Road (There are signs here). Sand Forest Lodge is 900m from the turning - on the LEFT side of the road.
Facilities
air conditioner (all units)
air conditioner (some units)
big game (less than 30km)
big game onsite
boat / marine slipway (within 5km)
boat trips (less than 5km)
braai / barbecue - onsite
canoeing (less than 5km)
fishing (less than 3km)
game drives (less than 30km)
horse riding (less than 5km)
hunting (less than 30km)
kitchen (fully equipped)
lake (less than 5km)
laundry facilities (less than 2km)
laundry facilities onsite
lock-up safe
medical facilities (less than 5km)
microwave in unit
nature trail (less than 2km)
nature trail onsite
outdoor pool
parking all onsite
parking off-site
private airfield (less than 15km)
private entrance
reptile park (less than 20km)
restaurant (less than 5km)
tea / coffee making facilities
Special Categories
Interesting Place Accommodation
Nearby points of interest
Page Statistics
32311
page views since
07 Mar, 2002
. Last updated on
29 May, 2018
.