Limpopo Hotel / Boutique Hotel Accommodation Listings
Limpopo Towns With Hotel / Boutique Hotel Accommodation
Showing 1 to 3 of 3 results
Sleeps: 100 in 38 units/rooms
From R 605,00
Per unit, per night.
Just 16 km from the Beit Bridge Border Post to Zimbabwe, Musina Hotel is located on the N1 highway in Musina and offers modern rooms, a pool and a 24-hour front desk.
WiFi Available
Instant Booking
From R 990,00
Per unit, per night.
Nestled amongst 172 hectares of bird-rich indigenous forest, in a well-stocked game farm, the village style layout at Gethlane Lodge and architecture of the chalets lends a colonial feel to this unpretentious resort. Gethlane Game Lodge is within striking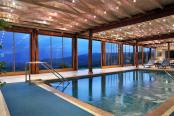 Easily accessible from Gauteng, Coach House Hotel & Spa offers country style hospitality and comfort in tranquil settings. Internationally renowned, this gracious estate is situated on 560 hectares in the lush sub-tropical Letaba district of Limpopo.
Direct Enquiry
Call Direct