Unfortunately "Polfyntjies at Hout" is no longer listed.
Please take a look at some nearby listings, towns or points of interest.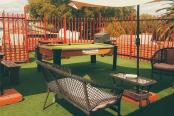 0.9km South West of Polfyntjies at Hout
Abendruhe Guesthouse, your home away from home, situated in Postmasburg. We are a bed and breakfast with a truly friendly South African hospitality atmosphere.
Direct Enquiry
Call Direct