Mantenga Lodge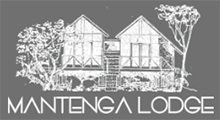 Location & Contact Details
Address:
Mantenga Road
Ezulwini Valley
15km from Mbabane
Swaziland
The lodge is situated among natural surroundings at the foot of Sheba's Breasts Mountains overlooking the legendary "Execution Rock". 39 rooms are tastefully furnished each with their own en-suite bathroom, air-conditioning, television, telephone and tea & coffee making facilities. Enjoy the peace and tranquillity, relax at the swimming pool, take a stroll around the gardens or just sit on the deck and enjoy the view of Execution rock whilst delighting your palette with the tastes from our a-la-Carte restaurant. Our rates are extremely competitive and you have the choice between our rustic Execution Rock View rooms with a balcony view over-looking the valley; our luxurious King Solomon rooms, perfect for the travelling businessman/woman or our Sheba's rooms which are tremendously popular. For those who are more budget conscious, try the Rider Haggard rooms which are based next to the pool. We have a few family rooms around the lodge, one of which is located in an old church building. Swaziland has a rich history and cultural background to explore, and Mantenga Lodge is an ideal base from where to get a real feel from the Swazi people.
Facilities
air conditioner (all units)
airport (less than 15km)
bar/cocktail lounge
bowls (less than 5km)
canoeing (less than 5km)
car hire (less than 20km)
casino (less than 10km)
conference venue onsite
DSTV in room
exercise facilities (less than 5km)
game drives (less than 30km)
golf (less than 5km)
horse riding (less than 5km)
laundry facilities onsite
live entertainment (less than 3km)
lock-up safe
medical facilities (less than 5km)
nature trail (less than 2km)
outdoor pool
parking all onsite
phone in room
private airfield (less than 15km)
private entrance
restaurant (less than 5km)
restaurant onsite
sauna/steam room (less than 3km)
squash court (less than 5km)
tea / coffee making facilities
tennis court (less than 5km)
Page Statistics
52453
page views since
15 Mar, 2005
. Last updated on
25 Jan, 2019
.

Mantenga Lodge appears in the following sections: