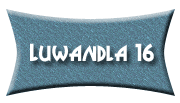 Location & Contact Details
Address:
Beach Road
St Lucia
KwaZulu Natal
Contact :

Pierre or Karin Grobler

Local Fax (1) :

017-8195540

INT Fax (1) :

+27-17-8195540

Local Fax (2) :

017-8112065

INT Fax (2) :

+27-17-8112065

Cell (1) :

082-7747723

Cell (2) :

084-5061669 (Pierre)
LUWANDLA 16 is a self catering townhouse situated ± 1km from the beach. It is situated opposite an indigenous forest and warthogs, red duiker, monkeys (and the occasional leopard and hippo's) are frequent visitors to the garden!

This is a sun filled, immaculately clean and neat unit, with Air/Conditioners (3), fully equipped kitchen, 2 1/2 bedrooms, two full bathrooms, lounge with colour TV and DSTV, stoep with built in braai facilities and a private patio and garden with removable braai facilities. Single lockable garage. Etc

Swimming pool available in complex (Locked for safety and privacy)

Luwandla is situated within walking distance (+/-) 1km of all town activities, shops and restaurants, and is the ideal base for exploring the surrounding areas such as the nearby game reserves, walking trails, beaches, boat trips etc.

St Lucia is unique in that it is a town that enables you to see hippo's, crocodiles, red duiker, steenbok etc just strolling through the streets on your morning walk! Sheer bliss! It is so beneficial to your mind, soul and body, your medical aid should refund your stay in st Lucia!!

Last but not least - it is a bird watcher's paradise.

Distances
From St Lucia To:

Distance:
Cape Vidal (34km)
Mission Rocks (11km)
Nyalazi Gate (Umfolozi Game Reserve) (57km)
Memorial Gate (Hluhluwe Game Reserve) (92km)
Nduma (234km)
Mkuze (234km)
Kozi Bay (260km)
Sodwana Bay (170km)
Mtubatuba (27km)
Richards Bay Airport (78km)
Sodwana (200km)
Shakaland (150km)
Durban (252km)
Johannesburg / Pretoria (620km)
Kruger National Park (700km)
Cape Town (1839km)
Swaziland Border (185km)
Things to See and Do!
The Greater St Lucia Wetlands Park stretches from Maphelana in the south to the Mozambique border in the north and includes the St Lucia Estuary, Charter's Creek, Fanie's Island, the False Bay Park, Cape Vidal and Sodwana Bay. The coastline stretches approximately 280km and this is where Tropical and Subtropical weather systems; river life and sea life meet. It is said that the Greater St Lucia Wetlands Park has more species of animals than in the Kruger National Park and Okavango Delta.

7 Eco-systems interact and coexist within an area of 260,000ha
Lake St Lucia: the largest salt water lake in Africa.
Marine eco-system: sandy beaches and the southern-most coral reefs on earth.
The Eastern shores: separates the lake and sea. Mkuze swamps: caused by washed-down river sediment.
Western shores: forests and fossil marine life. Coral Reef eco-system: includes all the coral reefs along the coastline.
Mfabeni eco-system: dune forest separating lake and sea.
The Greater St Lucia Wetlands Park offers Different weather systems Different ecosystems Submarine canyons Sandy beaches Dune forests Wetlands Grasslands Forests Lakes Savannas

There are less places where you can find a sense of blissful solitude and magical energy like in The Greater St Lucia Wetlands Park home to the second oldest wilderness game reserve in South Africa the highest vegetated sand dunes in the world.

Having absorbed the magical energy and spiritual presence inherent to this World Heritage Site, you will leave St Lucia restored and rejuvenated - a natural "tonic" that everyone should experience.

"The Greater St Lucia Wetlands Park must be the only place on the globe where the world's oldest land mammal (the rhinoceros) and the world's biggest terrestrial mammal (the elephant) share an ecosystem with the world's oldest fish (the coelacanth) and the world's biggest mammal (the whale)." - Nelson Mandela.

Places to Visit

Mission Rocks
Travel along the Cape Vidal road for approximately 14km then turn right onto the gravel road. Along the way to Mission Rocks you can stop at the lookout point from where you can look down on the Eastern and Western shores. At Mission Rocks there are picnic, braai facilities and toilets. Off the rocks to your left, walk approximately 2km to bats cave which has a large population of Egyptian Fruit Bats. To your right along the rocks, you will find many rock pools with an abundance of marine animals. Best time to go is at low tide. Only 25 vehicles per day.

Cape Vidal
32km From St Lucia you will find the beautiful coastal resort, Cape Vidal which holds the unique distinction of allowing visitors access to both the wildlife of the Greater St Lucia Wetland Park as well as the marine life of the Indian Ocean coast.

Within this park area we have four of the "Big 5" of which the lion is absent.

The sheltered bay has a designated launch site for ski boats with excellent off-shore angling, spear fishing, surfing, swimming and snorkelling.

This family destination also offers guided walking trails around the fascinating wetlands and the Lake Bhangazi shoreline.

Only 100 day visitors per day are allowed to enter the park.

Sodwana Bay
Sodwana is situated within the Maputaland Marine Reserve and the only scuba-diving area along the GSLWP coastline. Classified as one of the top dive sites in the world this 50km reef complex boasts with approximately 95 species hard and soft coral, sponges, other invertebrates and in the region of 1200 fish species. It is visited by approximately 35,000 scuba-divers per year. For a distance of 2km vast valleys of 700m deep are scattered around. We call these Submarine Canyon. It was in one of these canyons on the 27th November 2000 that the Coelacanth was rediscovered.

Diving Conditions
Visibility: February to August a viz. of over 25m. Rain and river run-off could influence visibility.
Depth of Dives: 8 to 35m
Marine Life: Indian Ocean species together with colder water species. Humpback Whales; Ragged Tooth Sharks; Whale Sharks; Tiger Sharks; Manta Rays.
Dive Qualifications: Minimum qualification is NAUI Open Water 1
Reefs: Anton's Reef; Chain Reefs; Pinnacles and Gullies; Potholed and Sponge Reefs; Caves and Overhangs; Bikini Reef; Gotham; Ramsey's Reef; Ribbon Reef; Green Coral Tree; Seaweed Gardens and the sand habitats.

Facilities

Big game (less than 30km) boat / marine slipway (within 5km) boat trips (less than 5km) braai / barbecue - enclosed patio braai / barbecue - open stoep DStv in lounge private garden fishing (less than 3km) game drives (less than 30km) golf (less than 5km) horse riding (less than 5km) lake (less than 5km) microwave in unit nature trail (less than 2km) outdoor pool lockable single garage for parking (can accommodate boat on premises of unit) surf shops (less than 2 km) curio shops (less than 2km) private airfield (less than 15km) reptile park (less than 20km) restaurants - wide variety - (less than 2km) scuba diving (less than 10km) whale watching (less than 10km)
Page Statistics
40511
page views since
28 Jul, 2009
. Last updated on
07 Dec, 2018
.