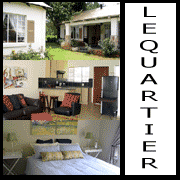 Location & Contact Details
Address:
83 Naledi Drive
Dullstroom
Mpumalanga
Contact :

Bronwen

Cell :

082-4485253


Each cottage has its own fireplace and a welcome bundle of wood is provided. DSTV (hospitality package only) is provided in each cottage. The kitchens are fully equipped and there is a shared brick braai in the garden. Van Gogh also has its own under cover brick braai.

The cottages are decorated and themed according to renowned artists, Picasso, Renoir, Monet and Van Gogh. Each cottage has paintings and décor suiting the era as well as the artist style. Every stay at Le Quartier is aimed at drawing you back to experience another artists talent. Paintings were commissioned locally and depict the artists most well known works.

For the nature enthusiasts, step one road back and you find yourself in the country, the bird life is spectacular. Not only are walking, mountain biking and running a must, but for the more adventurous, the out rides on horseback are a great way to see the countryside. Trout dams and trout fishing have made Dullstroom a popular weekend as well as holiday destination. A must to try!

Le Quartier Dullstroom has been established to provide affordable but upmarket accommodation for visitors to Dullstroom. The cottages are quaint, cosy and secure. Nestling in the heart of the village, you immediately feel the country vibe, a stones' throw away from a good cup of coffee or a whisky tasting.
Other listing types and nearby points of interest