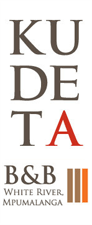 Location & Contact Details
Address:
11 Jakaranda
White River
Mpumalanga
South Africa
Contact :

Johan Lubbe

Local Tel :

013-7511773

INT Tel :

+27-13-7511773

Local Fax :

013-7511773

INT Fax :

+27-13-7511773

Cell :

082-8802224
Experience the Art of Hospitality.
Welcome to KU DE TA, a B&B/Guesthouse in the heart of the sub tropical lowveld.
We have 7 en-suite rooms, most with private outside courtyards, some with large farm style verandas ideally suited to the Lowveld climate. All bedrooms are individually decorated with solid, bold, Indonesian Teak furniture along minimalist lines to add to the feeling of peace, serenity and tranquillity. The koi pond, gently cascading all around the house, meandering in and out of the courtyards, reflects a feeling of calm delight.
The spacious lounge with its oversized daybeds is ideal for lazy, relaxing afternoons. Breakfast, or dinner on request, is served in the dining room, where all the windows and doors can be stacked away to open the entire space to the front garden.
The lush subtropical garden with it's rolling lawn, majestic Royal palms, large dappled shade trees, orchids, epiphytic ferns, colourful shrubs and rare plant collectors plants is a cool escape.
We're in the country town of White River, amongst all the splendours of the lowveld. Maputo, or one of the many private Game lodges. Interesting craft shopping at Casterbridge, and dining at some of the finest restaurants.
Directions
We are number 11 Jacaranda road, White River, Mpumalanga, South Africa.
The newer GPS devices have KU DE TA listed under accommodation. If you do search us and we do not appear on the list, enter 8 Jacaranda road, as 11 also does not appear on the maps. Most GPS devices takes you to to the wrong Jacaranda street.

We can also send you our location on Whatsapp, and Google Maps will bring you right here. Or search KU DE TA B&B on Facebook, our location is on there. If all else fails, I can text you the directions.

Or follow these easy directions.

Directions: KU DE TA B&B, White River.

From N4/Nelspruit

The N4 is a toll road from Johannesburg to Maputo, going thru Nelspruit.
When in Nelspruit, turn left at the 3rd traffic light. This is the main intersection where the N4 crosses with the White River, Barberton road. ( R40)
Towards White River, you'll pass the Lowveld Botanical Gardens on your right, and then the Riverside Mall.
Half way up the hill to White River you'll go thru the Rocke's Drift industrial area, and then the last hill to White River.
At the first intersection where you turn left to Sabie you'll find the first traffic light, continue on. About 500 meters further turn left into Henry Morey Street. At the stop street, turn right into Frank Townsend Street. Over the next intersection, a four way stop, then turn left into the next street, John Barker. The first street left again into Jacaranda. KU DE TA is the only property on the right, with the entrance at the top, on the right. Ring the bell at the gate.
Welcome. You have arrived. Mobile nr. 082 880 2224

From Sabie to White River

After visiting Sabie, make sure to get yourselves on the White River road. It's a scenic 45 km. to White River.
The first turn-off to White River is on the left, Impala street, turn left here. The first street right is Henry Morey, turn right. At the stop, turn left into Frank Townsend.
Continue over the next intersection, a four way stop, then turn left into the next street, John Barker. The first street left again into Jacaranda. KU DE TA is the only property on the right, with the entrance at the top, on the right. Ring the bell at the gate.
Welcome. You have arrived. Mobile nr. 082 880 2224

From Hazyview or Numbi gate to White River.

In the southern part of Hazyview, you have to turn right off the main road to White River, onto the R40. You enter White River from the north, and on the outskirts of White River, at the round-about, you'll see the Numbi road joining the R40 from the left. This is the road you'll be on if you exit the Kruger Park at the Numbi Gate.
Immediately thereafter is, on you left, Casterbridge farm and on your right Baghdad Cafe. Yes, it's named after the movie. Don't let these names fool you, both are shopping centres. Shops filled with local arts and crafts. If you like hand crafted furniture and other extra ordinary goodies, this place will make your credit card quiver. But lets not get side tracked, you are on your way to KU DE TA B&B.
At the second traffic light in White River, at the Caltex filling station, turn right into Tom Lawrence Street, and drive all the way up to the T-junction, also traffic light. Turn right into Danie Joubert street and a short way further at the next traffic light left into Frank Townsend street. At the second street, turn right into John Barker Street.
The first street left again into Jacaranda. KU DE TA is the only property on the right, with the entrance at the top, on the right. Ring the bell at the gate. Mobile nr. 082 880 2224

From Kruger Mpumalanga International Airport

Follow the Exit signs at the airport. At the circle, turn right to White River. After a few km. turn left at the stop towards White River. Again after a few km, at the stop, turn right to White River. At the next stop, you are in White River and turn right into Hennie van Till str. Go over the main road and at the T junction turn left into Tom Laurence st. At the next traffic light, turn right into Danie Joubert street and a short way further at the next traffic light left into Frank Townsend street. At the second street, turn right into John Barker Street. The first street left again into Jacaranda road. KU DE TA is the only property on the right, with the entrance at the top, on the right. Ring the bell at the gate. Mobile nr. 082 880 2224