Unfortunately "Kavango Test Page" is no longer listed.
Please take a look at some nearby listings, towns or points of interest.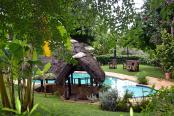 0.8km North West of Kavango Test Page
Tambuti is a small Lodge beautifully perched above the Kavango River overlooking the floodplain. We are one of the rare lodges looking at the river without getting wet feet, thus we are also open during the flood season, all year round.