Unfortunately "Heimat Guesthouse " is no longer listed.
Please take a look at some nearby listings, towns or points of interest.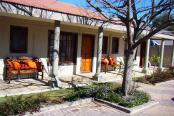 0.2km South West of Heimat Guesthouse
We are an Up-market Guest House situated in Welkom Free State in the heart of the Goldfields. You can find the Central Business District and entertainment, within a radius of 2 km.
Direct Enquiry
Call Direct