Unfortunately "Gamagara Safari Lodge" is no longer listed.
Please take a look at some nearby listings, towns or points of interest.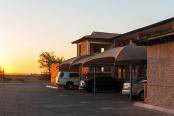 Sleeps: 156 in 78 units/rooms
32.0km South East of Gamagara Safari Lodge
Kathu is a town in South Africa, and the iron ore capital of the Northern Cape Province. Its name means "town under the trees", after the Camel Thorn forest it is situated in. Kathu Inn has 78 En-suite units.