Unfortunately "Bergvliet Game Farm" is no longer listed.
Please take a look at some nearby listings, towns or points of interest.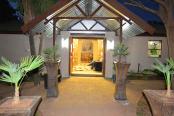 37.6km East of Bergvliet Game Farm
Welcome to the Ketel & Katel guesthouse. Your home away from home. We are a luxury guesthouse situated right next to the N4 high way in Swartruggens. We have 4 luxury on suite rooms with facilities like, flat screen TV's, Dstv, Free Wi-Fi internet...
Direct Enquiry
Call Direct