Showing 1 to 10 of 10 results
SPECIAL
Parkview 5, A and B interlinking (can be rented as 1 bedroom, 2 bedroom or 3 bedroom unit) Parkview Bachelor A 1x Double bed Open plan room with kitchenette and en-suite bathroom Kitchenette with Microwave.
Direct Enquiry
Call Direct
3x One Bedroom flat with kitchen, lounge and bathroom, lock up garage or carport parking. DSTV mm1, mm2, TV1, TV2, TV3, ETV, channels 200-208
Direct Enquiry
Call Direct
Our Luxurious Five Star Guesthouse is situated in the heart of Uitenhage, 35 minutes drive from PE Airport and Addo National Elephant Park. Mi Casa was designed and built in 2006 as a Guesthouse and conference facility
Direct Enquiry
Call Direct
Nearby Listings
From R 375,00
Per person, per night sharing.
21.3km South of center of Uitenhage
Little Louisa is well situated for business travellers and holiday makers alike. Enjoy a quiet and tranquil stay in Little Louisa's private chalet with a large garden and abundant bird life.
Direct Enquiry
Call Direct
Sleeps: 23 in 3 units/rooms
22.9km South East of center of Uitenhage
Blue Skies Country House offers comfortable, homely accommodation at realistic prices. Enjoy the peace and tranquility of our 2 hectare garden with sparkling salt water pool and abundant bird life.
Direct Enquiry
Call Direct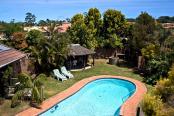 24.6km South East of center of Uitenhage
The accommodation provides you with your home comforts for sleep and relaxation. Step out of the sliding door, to a solar-heated swimming pool for a swim, work on that all over tan on one of our loungers
Direct Enquiry
Call Direct
Sleeps: 6 in 3 units/rooms
From R 700,00
Per unit, per night.
24.6km South East of center of Uitenhage
L'auberge Country Hideaway is a family-owned country hideaway in Port Elizabeth. Enjoy a quiet stay in one of our three private cottages, surrounded by indigenous forest or unwind next to our tranquil lily pond. Take advantage of our communal Lapa...
Instant Booking
Direct Enquiry
Call Direct
Sleeps: 15 in 5 units/rooms
24.7km South of center of Uitenhage
Welcome to Paradise. Conveniently located only 25ks from the city of Port Elizabeth, Beachview is situated in the majestic malaria free Eastern Cape. It is one of the hidden jewels in the crown on South Africa's spectacular Garden Route.
Direct Enquiry
Call Direct
Sleeps: 12 in 2 units/rooms
From R 800,00
Per unit, per night.
24.7km South of center of Uitenhage
Seaside Escape provides front row, on-the-beach self-catering accommodation in Beachview, a small coastal village near Port Elizabeth. Situated a stones throw away from the waters edge, this fully furnished ground floor apartment
Direct Enquiry
Call Direct
From R 450,00
Per person, per night sharing.
24.7km South of center of Uitenhage
Beach front Self-Catering. Unobstructed ocean and beach views. Situated on the spectacular coastline of Beachview, we offer you relaxed beach house living.
Direct Enquiry
Call Direct
WhereToStay Uitenhage accommodation ranges from a variety of specific categories such as Uitenhage self catering accommodation to Uitenhage b and b accommodation and many more.
More sought after Uitenhage accommodation categories include Uitenhage pet-friendly and Uitenhage wheelchair-friendly accommodation. If you are specifically pursuing these Uitenhage accommodation categories, then we highly recommend that you contact the accommodation owner directly to ensure that the facilities are satisfactory and to your liking.
The Uitenhage pet-friendly accommodation and the Uitenhage wheelchair-friendly accommodation facilities can vary between large Uitenhage Hotels as well as small room only accommodation. Self catering Uitenhage accommodation will occupy the majority of these listings.
99% of all Uitenhage guest houses listed on WhereToStay will display rates for your convenience. Occasionally a Uitenhage guest house will ask you to request a quotation.
WhereToStay tries to keep the Uitenhage self catering and Uitenhage b&b standards at the highest levels relative to tariffs charged. Misleading advertising related to any listings of Uitenhage B&B and Uitenhage self catering accommodation should be reported so that WhereToStay can act accordingly.
See our full list of Uitenhage accommodation special categories at the top of this page
AFRIKAANS
WhereToStay Uitenhage Akkommodasie wissel van 'n verskeidenheid van spesifieke categoriee soos Uitenhage selfsorg akkommodasie, Uitenhage, b en b blyplekke en nog veel meer.
Meer gesogte Uitenhage slaapplek kategoriee sluit in Uitenhage troeteldier-vriendelike blyplekke en Uitenhage rolstoel-vriendelike akkommodasie.
As jy spesifiek vrae oor die voorsetting van hierdie Uitenhage blyplekke, sal dit raadsaam wees om kontak met die eienaars te maak om te verseker dat die fasiliteite bevredend is en na you hart.
Die Uitenhage troeteldier-vriendelike verblyf en Uitenhage rolstoel-vriendelike vakansie blyplekke kan wissel tussen Uitenhage Hotelle asook klein kamer akkommodasie in Uitenhage. Uitenhage selfsorg slaapplekke sal die meerderheid van hiedie inskrywings beset.
99% van alle Uitenhage gastehuise gelys op WhereToStay sal pryse vertoon vir u gerief. Soms sal 'n Uitenhage gastehuis vra om 'n kwotasie te versoek.
WhereToStay probeer om die lys van Uitenhage slaapplek standaarde op die hoogste vlakke (relatief tot tariewe) gehef hou.
Misleidende advertensies wat verband hou met enige lys van Uitenhage blyplekke moet aangemeld word sodat WhereToStay kan daarvolgens optree.