Showing 1 to 10 of 10 results
Sleeps: 23 in 3 units/rooms
Blue Skies Country House offers comfortable, homely accommodation at realistic prices. Enjoy the peace and tranquility of our 2 hectare garden with sparkling salt water pool and abundant bird life.
Nearby Listings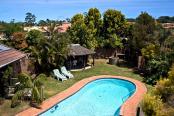 2.0km North East of center of Theescombe
The accommodation provides you with your home comforts for sleep and relaxation. Step out of the sliding door, to a solar-heated swimming pool for a swim, work on that all over tan on one of our loungers
Sleeps: 6 in 3 units/rooms
From R 700,00
Per unit, per night.
5.3km South West of center of Theescombe
L'auberge Country Hideaway is a family-owned country hideaway in Port Elizabeth. Enjoy a quiet stay in one of our three private cottages, surrounded by indigenous forest or unwind next to our tranquil lily pond. Take advantage of our communal Lapa...
From R 380,00
Per person, per night sharing.
6.9km North East of center of Theescombe
The guest house consists of five large comfortable, tastefully furnished double bedrooms all of which adjoin spacious en suit bathrooms. Each room has its own mini bar. Cotswold House is located in a large and attractive emerging garden
Sleeps: 36 in 11 units/rooms
From R 485,00
Per person, per night sharing.
7.2km North East of center of Theescombe
Sir Roy's Guest House in Port Elizabeth invites you to enjoy up-market, country style accommodation. Close to Airport, golf courses and within walking distance of the up-market Walmer Park Shopping Centre.
Sleeps: 38 in 19 units/rooms
7.8km North East of center of Theescombe
The stunning 4 star Lodge on Main Guest House and Conference Centre in Walmer Port Elizabeth is the logical choice for your conference accommodation and function bookings and there are many reasons why.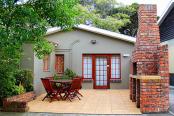 Sleeps: 18 in 5 units/rooms
From R 418,00
Per person, per night sharing.
8.8km North East of center of Theescombe
African Aquila Lodge takes its name from the majestic African Eagle and is a 5 unit self catering establishment - an ideal getaway for families and long term corporate clients. African Aquila is ideally located in the beautiful garden suburb of Walmer..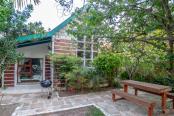 Sleeps: 18 in 4 units/rooms
From R 650,00
Per unit, per night.
9.0km North East of center of Theescombe
Moramba Self Catering is a collection of comfortable & stylish Self Catering Cottages in the lush green suburb of Walmer in Port Elizabeth. Our Self Catering accommodation in Port Elizabeth caters for small families, couples, business travelers, single tr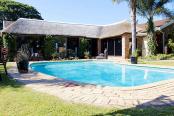 Sleeps: 19 in 8 units/rooms
From R 407,50
Per person, per night sharing.
10.5km North East of center of Theescombe
Four spacious double en-suite bedrooms have private patios, under thatch, overlooking a tranquil garden and swimming pool. The other two en-suite rooms have private courtyard gardens. Two spacious family suites, Kilimanjaro & Nakuru are also ...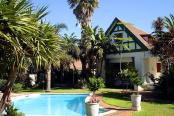 From R 550,00
Per person, per night sharing.
10.6km North East of center of Theescombe
Each room is individually decorated and is provided with a private telephone, television set, hair dryer and tea and coffee making facility. Wireless internet is also available. We offer 8 en-suite rooms as well as two luxury suites
WhereToStay Theescombe accommodation ranges from a variety of specific categories such as Theescombe self catering accommodation to Theescombe b and b accommodation and many more.
More sought after Theescombe accommodation categories include Theescombe pet-friendly and Theescombe wheelchair-friendly accommodation. If you are specifically pursuing these Theescombe accommodation categories, then we highly recommend that you contact the accommodation owner directly to ensure that the facilities are satisfactory and to your liking.
The Theescombe pet-friendly accommodation and the Theescombe wheelchair-friendly accommodation facilities can vary between large Theescombe Hotels as well as small room only accommodation. Self catering Theescombe accommodation will occupy the majority of these listings.
99% of all Theescombe guest houses listed on WhereToStay will display rates for your convenience. Occasionally a Theescombe guest house will ask you to request a quotation.
WhereToStay tries to keep the Theescombe self catering and Theescombe b&b standards at the highest levels relative to tariffs charged. Misleading advertising related to any listings of Theescombe B&B and Theescombe self catering accommodation should be reported so that WhereToStay can act accordingly.
See our full list of Theescombe accommodation special categories at the top of this page
AFRIKAANS
WhereToStay Theescombe Akkommodasie wissel van 'n verskeidenheid van spesifieke categoriee soos Theescombe selfsorg akkommodasie, Theescombe, b en b blyplekke en nog veel meer.
Meer gesogte Theescombe slaapplek kategoriee sluit in Theescombe troeteldier-vriendelike blyplekke en Theescombe rolstoel-vriendelike akkommodasie.
As jy spesifiek vrae oor die voorsetting van hierdie Theescombe blyplekke, sal dit raadsaam wees om kontak met die eienaars te maak om te verseker dat die fasiliteite bevredend is en na you hart.
Die Theescombe troeteldier-vriendelike verblyf en Theescombe rolstoel-vriendelike vakansie blyplekke kan wissel tussen Theescombe Hotelle asook klein kamer akkommodasie in Theescombe. Theescombe selfsorg slaapplekke sal die meerderheid van hiedie inskrywings beset.
99% van alle Theescombe gastehuise gelys op WhereToStay sal pryse vertoon vir u gerief. Soms sal 'n Theescombe gastehuis vra om 'n kwotasie te versoek.
WhereToStay probeer om die lys van Theescombe slaapplek standaarde op die hoogste vlakke (relatief tot tariewe) gehef hou.
Misleidende advertensies wat verband hou met enige lys van Theescombe blyplekke moet aangemeld word sodat WhereToStay kan daarvolgens optree.