Showing 1 to 4 of 4 results
SPECIAL
Soul of Africa is a luxurious privately owned Catered game lodge nestled in the idyllic Bushveld surrounds of the Waterberg mountains, just outside the town of Thabazimbi, in the Limpopo Province. The lodge caters for a total of 12 guests.
Direct Enquiry
Call Direct
With a distant view of the Waterberg Mountains, in the midst of the endless savannah, lies the Makuto Lodge with over 1200 hectare private ground. Accommodating a maximum of 20 guests ensuring tranquillity & privacy - a perfect place to relax.
Direct Enquiry
Call Direct
Nearby Listings
32.3km South of center of Thabazimbi
Chalets are all uniquely equipped with facilities to cater for all your needs, offering exclusive Self Catering and B & B to Fully Inclusive Accommodation. We create packages to suit your needs, from......
Direct Enquiry
Call Direct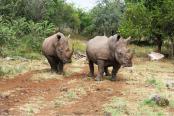 37.8km South West of center of Thabazimbi
With the majestic backdrop of the Waterberg Mountains lies Dumanzi Lodge, offering wonderful accommodation for both leisure seekers and hunters. We are located in the heart of the Bushveld, making our Lodge an ideal destination for weekend...
Direct Enquiry
Call Direct
Nearby Towns With Accommodation