Accommodation Categories

Special Categories
Showing 1 to 10 of 10 results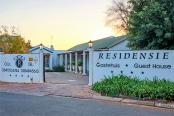 Residensie Guest House is a 4 star luxury guest house with an old rustic feel, we offer en suite bedrooms with Victorian style bath tubs.
Sleeps: 24 in 12 units/rooms
Sheltered under majestic oak trees and nestled in the heart of the North West Province you'll find Peacock House, a bed and breakfast beyond luxury and comfort and with true South African hospitality. Peacock House is situated in Stilfontein...
Nearby Listings
Sleeps: 21 in 10 units/rooms
9.7km West of center of Stilfontein
Are you looking for a unique experience that is affordable, yet spotless and comfortable? Our Beautiful Big Blue Guest House offers just that, with wooden floor, window frames and antique Victorian finishes, you will feel right at home. We offer free Wi..
11.1km West of center of Stilfontein
A new and exciting kid is on the block. This kid has class, style and packs a punch. The King's Chateau is a smart new Guesthouse that has opened its doors within the Wilkoppies heart of Klerksdorp.
Sleeps: 34 in 2 units/rooms
11.3km South West of center of Stilfontein
AnnVilla Guest House has 6 newly built deluxe rooms overlooking a garden courtyard. Private entrances lead to the spacious rooms. The beautifully appointed rooms cater for the discerning traveler with quality touches, including comfortable workspa...
11.4km West of center of Stilfontein
At Readman guesthouse in Klerksdorp is a charming guesthouse provides a friendly warm atmosphere, comfortable, for business and leisure travellers, breakaway couples, family and friends of hospital patients.
Sleeps: 11 in 4 units/rooms
34.3km North East of center of Stilfontein
Adato Guest House is a charming home situated in Potchefstroom close to the main attractions, shopping centers. hospitals, sport grounds and the university. The warm friendly atmosphere and comfortable, stylish accommodation is ideal for business ...
Sleeps: 34 in 17 units/rooms
34.3km North East of center of Stilfontein
In the historical town of Potchefstroom, Gretha & Nicky welcome you to their well-appointed 4 star guesthouse in a tranquil and peaceful town setting. 11 Spacious, en-suite rooms are equipped to match the needs of the modern traveller.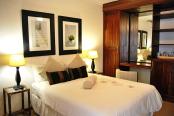 Sleeps: 38 in 15 units/rooms
From R 600,00
Per person, per night sharing.
35.7km North East of center of Stilfontein
Kumkani Country Lodge is centrally situated on 4ha next to the Mooi River and Golf course in Potchefstroom. Shopping centres and restaurants within walking distance. University/ sport facilities are within 5 km.
Sleeps: 18 in 5 units/rooms
35.8km North East of center of Stilfontein
All our cottages have private entrances and secure undercover parking. The comfort of our guests is ensured with an en-suit bathroom/toilet, fully equipped kitchen, breakfast nook and lounge with TV and satellite TV. Internet, e-mail, and fax ...
Nearby Towns With Accommodation