Showing 1 to 2 of 2 results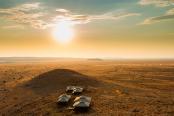 Bed & Breakfast Accommodation in Solitaire
Moon Mountain Lodge is an ultra-luxury tented lodge ideally located at the foot of the Naukluft Mountains. Large, airy rooms offer all the comforts of a luxury hotel suite with infinite views from your bed or private splash pool.
From R 200,00
Per person, per night sharing.
Bed & Breakfast Accommodation in Solitaire
Namib's Valley of a Thousand Hills is located in the Namib on a highland with a panoramic view of the Guab Valley. The valley is riddled with thousands of hills creating a photographers heaven.
Khomas Bed & Breakfast Accommodation
Solitaire Accommodation Categories
Bed & Breakfast Accommodation
Solitaire Special Accommodation Categories