Showing 1 to 10 of 10 results
Sleeps: 54 in 12 units/rooms
Self Catering House, Cottage, Chalet Accommodation in Saldanha
Blue Bay Lodge in Saldanha is adjoined by a number of well designed, comfortable self-catering cottages where guests can enjoy even greater privacy
From R 1 800,00
Per unit, per night.
Self Catering House, Cottage, Chalet Accommodation in Saldanha
The seaside town of Langebaan is situated on the banks of Langebaan lagoon, only 120 km north of Cape Town on the R27 West Coast road. The Lagoon is part of the magnificent West Coast National Park and is world renowned for its diverse fauna...
Nearby Listings
6.0km North West of center of Saldanha
Come replenish your soul in a fully equipped holiday home in idyllic Jacobsbaai. Whimseagull offers a stylishly decorated self catering option with extra amenities that include a television, full DSTV bouquet, DVD player, dishwasher, washing machin..
Sleeps: 6 in 3 units/rooms
11.1km East of center of Saldanha
El Sueno de Helena self catering house situated in Paradise Beach, Langebaan offers 3 bedrooms with 2.5 bathrooms. Very safe double security gated village with entire private beach only for residents.
12.7km East of center of Saldanha
On the beach front, close to restaurants and shops, Greystones Beach House provides luxury self-catering accommodation for eight people. Ideally situated for watersports, bird life and wild flowers of Langebaan Lagoon.
Sleeps: 7 in 2 units/rooms
12.8km North of center of Saldanha
Situated on a smallholding at Nieuwerust on the Trekoskraal Road between Vredenburg and Paternoster is Atlantic Breeze Self Catering Cottages. Here visitors can enjoy the serenity of country life without compromising on comfort and convenience.
Sleeps: 4 in 2 units/rooms
19.6km North West of center of Saldanha
Hocus Pocus self catering townhouse is a simple but functional architectural style house based on the historical West Coast Fisherman's cottages as seen all around Paternoster.
20.3km North West of center of Saldanha
The 4 metre wide glass doors of the large living area open onto a patio with a built-in braai (barbeque). From here (or from the living room) there are unsurpassed views of the beach & sea - ideal for whale & dolphin watching! In the living room ...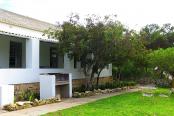 20.3km North West of center of Saldanha
One half of original farmhouse on property, built in 1916. Family heirlooms decorate rooms. Big private garden with braai. Large veranda with 2 entrances to house.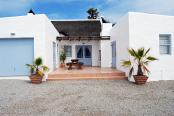 From R 935,00
Per unit, per night.
20.4km North West of center of Saldanha
Natural Blue was built in 2004 as a family home and welcomes children and pets. We are situated less than 200m from the beach and the 3 bedroom cottage with loft sleeping 2pax is spacious enough to accommodate the 'holiday' traffic.
Cape West Coast Self Catering House, Cottage, Chalet Accommodation
Western Cape Self Catering House, Cottage, Chalet Accommodation
Saldanha Accommodation Categories
Self Catering House, Cottage, Chalet Accommodation
Saldanha Special Accommodation Categories