Showing 1 to 10 of 10 results
Sleeps: 36 in 9 units/rooms
Bed & Breakfast Accommodation in Parkview
The lovely warmth that Abigails B&B provides is enhanced by the interesting, artistically decorated interiors, original artworks, Granny Goose duvets and pillows, pristine white cotton bed linen and small luxurious touches, such as toweling gowns
Nearby Listings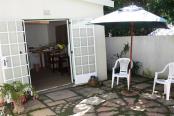 1.5km South East of center of Parkview
Nestled in the leafy suburb of Forest Town, in a quiet and secure cul-de-sac with 24 hour security guards. Friendly and warm comfort offered by Annie and Chris Challis - this is your home away from home.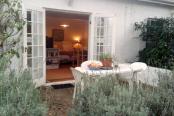 Sleeps: 6 in 3 units/rooms
1.6km North West of center of Parkview
6 on Sixth Bed & Breakfast is conveniently situated in the up-market Johannesburg suburb of Parktown North.
Sleeps: 8 in 4 units/rooms
1.7km North East of center of Parkview
Cotswold Gardens Guest House is situated in the beautiful treed suburb of Saxonwold Johannesburg. Offering four spacious bedrooms with a generous continental or full English breakfast served in this spacious Tuscan inspired breakfast lounge.
2.1km South West of center of Parkview
7th Street Guesthouse and Conference Venue is a 4 star graded by TGCSA, with 13 luxury en suite rooms equipped with DSTV, Wifi internet access, heaters, hairdryers, fans, digital safes, coffee/tea facilities and bar fridges stocked with compliment...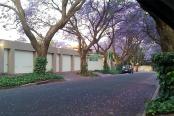 2.1km North East of center of Parkview
The Rosebank Lodge Guesthouse is just a 5 minute walk from the Rosebank Gautrain and Rosebank shopping Mall, along beautiful Jacaranda-lined streets bordering Rosebank/Parkwood and Houghton Estate, just off Oxford rd/Glenhove rd/Bolton rd corner...
2.1km South West of center of Parkview
Saffron guest house is centrally located, Melville, and on the doorstep of many popular restaurants, cocktail bars, galleries, bookshops and hair salons. Saffron is within easy reach of the main highways to the North, and South of Johannesburg...
2.2km North West of center of Parkview
Hlala Panzi is situated in the gorgeous historic pre war suburb of Parkhurst. It is the hub of fine art and antiques. Hlala Panzi is 2 blocks above the famous 4th Ave with all it's side walk cafés, deli's and restaurants reflecting the cuisine of Afr
2.7km North of center of Parkview
La Bougain Villa is an elegant Bed and Breakfast in a quiet peaceful garden setting in the heart of Johannesburg's northern suburbs. Holiday makers and business executives are most welcome.
Sleeps: 12 in 6 units/rooms
2.9km South West of center of Parkview
33 on First Guesthouse is situated a stone's throw from the Bohemian suburb of Melville's famous 7th Street with its vibe atmosphere, pavement cafes, cozy restaurants, antique/vintage stores and cocktail clubs, we are in the perfect location to explore Jo
Greater Johannesburg Bed & Breakfast Accommodation
Parkview Accommodation Categories
Bed & Breakfast Accommodation
Parkview Special Accommodation Categories