Showing 1 to 10 of 10 results
Sleeps: 220 in 10 units/rooms
Bed & Breakfast Accommodation in Montana
Affordable quality accommodation. Ten comfortably furnished bedrooms with a garden view. En-suite bathrooms. Each room has TV (M-net), barfridge, mini safe, ceiling fan and tea/coffee.
Nearby Listings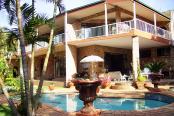 1.7km South East of center of Montana
Swan Lake Luxury Guesthouse in Montana Park, big beautiful garden with fish ponds and swimming pool against the Magaliesberg Mountain, in Montana Park Barbeque facilities. Near big shopping centres.
2.5km South East of center of Montana
Exquisite and spacious fully equipped en-suite accommodation with panoramic view. Nestling in a lovely garden against the foothills of Magaliesberg. One of the oldest mountain chains in the world (2,000 million years). On your way to Kruger Park, ...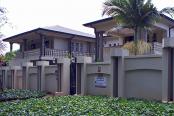 Sleeps: 19 in 9 units/rooms
6.8km South of center of Montana
Goodey's Guesthouse is situated in the beautiful Jacaranda-lined Amos Street in the tranquil suburb of Colbyn - one of Pretoria's oldest suburbs.Goodey's Guesthouse offers you six well equipped, stylish en-suite bedrooms...
Sleeps: 18 in 8 units/rooms
6.9km South of center of Montana
3@Marion Guesthouse is a beautiful sanctuary of calm and relaxation, ideally located in a private leafy street in Colbyn, one of the most peaceful suburbs in Pretoria.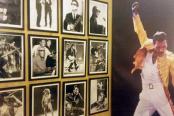 Sleeps: 42 in 21 units/rooms
6.9km South West of center of Montana
Bohemian Rhapsody / InnTshwane Lodge is perfectly situated for the business executive and also offers the ideal base for the traveller from where to explore our region. Upmarket accommodation on the slopes of the Majestic Magaliesberg in Pretoria North.
7.5km South of center of Montana
The Village in Hatfield is a delightful guesthouse offering a cluster of separate units, perfectly appointed for a comfortable stay. We aim to create an urban village atmosphere where travellers from all over the world will feel welcome...
7.5km South East of center of Montana
Die Pastorie Guesthouse caters for the discerning corporate and leisure traveler. The guesthouse consists of 7 luxurious en suite bedrooms that ensure privacy and a comfortable stay.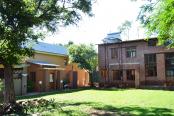 Sleeps: 36 in 14 units/rooms
From R 425,00
Per person, per night sharing.
7.5km South of center of Montana
Bed & Breakfast in Hatfield is serenely tucked away in the secluded part of Hatfield, Pretoria. Luxury and warm hospitality, provided by Des & Errol will make your South African stay memorable and create a home away from home.
7.6km South of center of Montana
Set in a small quiet street in the leafy suburb Eastwood, this tranquil guesthouse caters for the discerning businessperson or traveler. Business or leisure, guests and their companions can relax in comfortable surroundings in the most convenient locality
Greater Pretoria Bed & Breakfast Accommodation
Montana Accommodation Categories
Bed & Breakfast Accommodation