Showing 1 to 10 of 10 results
The Kosi Bay Nature Reserve lies on the coast in the northern part of KwaZulu-Natal, and surrounds the unique and beautiful Kosi Bay lake system which is part of the iSimangaliso Wetland Park.
SEE SPECIALS
Sleeps: 22 in 9 units/rooms
Tucked into tranquil sand forests on the Kosi Lake system, is an unspoilt wilderness lodge - part of the St Lucia World Heritage Park. Enjoy guided canoeing, boat trips on the lakes and raffia forest walks. One SA's best eco-tourism destinations.
Sleeps: 28 in 10 units/rooms
From R 660,00
Per person, per night sharing.
The camp is run off of solar power. Each unit has a solarpowered USB charger to provide charging of cameras, phones and other USB devices. We provide comfortable beds and linen etc, but we ask that you bring your own toiletries and beach towel.
Sleeps: 30 in 3 units/rooms
Situated in north eastern Kwa Zulu Natal on the shores of Lake Shengeza bordering Isimagaliso Wetland Park/Kosi Lakes. The natural beauty of the surroundings and the activities offered, make for an unforgettable experience.
Sleeps: 44 in 9 units/rooms
Kosi Bay Casitas is a rustic getaway situated on the very northern-most tip of the Elephant Coast in Kwazulu-Natal. Bordering the unspoilt wilderness of the Kosi Bay Nature Reserve - the most pristine lake system in South Africa - Kosi Bay has loads
Nearby Listings
18.8km North of center of Kosi Bay
Our deluxe cabanas, which are all private, are set under the cool indigenous trees. We have one 2 sleeper and two 4 sleeper units. Each unit has a beautifully appointed bedroom, which sleeps 2 people. There is a spacious ensuite bathroom, fully-equipped k
Sleeps: 36 in 6 units/rooms
18.8km North of center of Kosi Bay
Sea Breeze has three bedrooms: one bedroom contains two single beds and the other two bedrooms have a double bed in each room, the main bedroom is en-suite. There are air-conditioners in each bedroom and there are also ceiling fans in the lounge area.
18.8km North of center of Kosi Bay
The unit comprises of two bedrooms and sleeps a maximum of 4 people. There are air-conditioners in each bedroom as well as ceiling fans in the lounge and kitchen. All linen and bath towels are supplied. Beach towels are not provided.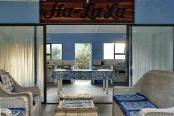 19.0km North of center of Kosi Bay
HA LA-LA located in the tranquil village of Ponta do Ouro, Mozambique, is an ideal retreat for couples seeking a romantic getaway, families wanting to make use of the excellent swimming beaches or water sport enthusiasts.
Sleeps: 42 in 7 units/rooms
19.0km North of center of Kosi Bay
Somebique Resort is set in the heart of the beautiful village of Ponta do Ouro. We currently have Six, Six sleeper Units , each comprising of a master bedroom with a double bed, and an open plan room, with two bunk beds (four single sleepers)
WhereToStay Kosi Bay accommodation ranges from a variety of specific categories such as Kosi Bay self catering accommodation to Kosi Bay b and b accommodation and many more.
More sought after Kosi Bay accommodation categories include Kosi Bay pet-friendly and Kosi Bay wheelchair-friendly accommodation. If you are specifically pursuing these Kosi Bay accommodation categories, then we highly recommend that you contact the accommodation owner directly to ensure that the facilities are satisfactory and to your liking.
The Kosi Bay pet-friendly accommodation and the Kosi Bay wheelchair-friendly accommodation facilities can vary between large Kosi Bay Hotels as well as small room only accommodation. Self catering Kosi Bay accommodation will occupy the majority of these listings.
99% of all Kosi Bay guest houses listed on WhereToStay will display rates for your convenience. Occasionally a Kosi Bay guest house will ask you to request a quotation.
WhereToStay tries to keep the Kosi Bay self catering and Kosi Bay b&b standards at the highest levels relative to tariffs charged. Misleading advertising related to any listings of Kosi Bay B&B and Kosi Bay self catering accommodation should be reported so that WhereToStay can act accordingly.
See our full list of Kosi Bay accommodation special categories at the top of this page
AFRIKAANS
WhereToStay Kosi Bay Akkommodasie wissel van 'n verskeidenheid van spesifieke categoriee soos Kosi Bay selfsorg akkommodasie, Kosi Bay, b en b blyplekke en nog veel meer.
Meer gesogte Kosi Bay slaapplek kategoriee sluit in Kosi Bay troeteldier-vriendelike blyplekke en Kosi Bay rolstoel-vriendelike akkommodasie.
As jy spesifiek vrae oor die voorsetting van hierdie Kosi Bay blyplekke, sal dit raadsaam wees om kontak met die eienaars te maak om te verseker dat die fasiliteite bevredend is en na you hart.
Die Kosi Bay troeteldier-vriendelike verblyf en Kosi Bay rolstoel-vriendelike vakansie blyplekke kan wissel tussen Kosi Bay Hotelle asook klein kamer akkommodasie in Kosi Bay. Kosi Bay selfsorg slaapplekke sal die meerderheid van hiedie inskrywings beset.
99% van alle Kosi Bay gastehuise gelys op WhereToStay sal pryse vertoon vir u gerief. Soms sal 'n Kosi Bay gastehuis vra om 'n kwotasie te versoek.
WhereToStay probeer om die lys van Kosi Bay slaapplek standaarde op die hoogste vlakke (relatief tot tariewe) gehef hou.
Misleidende advertensies wat verband hou met enige lys van Kosi Bay blyplekke moet aangemeld word sodat WhereToStay kan daarvolgens optree.
Nearby Towns With Accommodation