Showing 1 to 10 of 10 results
Nearby Listings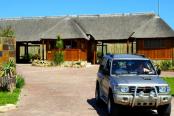 Sleeps: 12 in 3 units/rooms
From R 800,00
Per unit, per night.
26.6km South East of center of Kommadagga
Enjoy the tranquillity of the African bush on your own terms and agenda, camping in comfort. Situated within a malaria-free area in the Easter Cape, TiPi bush camp prides itself on being an environmentally friendly, eco-tourist destination
From R 1 150,00
Per unit, per night.
28.1km South of center of Kommadagga
Visitors can access the bush camp - situated 25 km (about a 45 minute drive) away from the Addo Rest Camp on gravel roads - by car, hiking trail or horse trail. For a horse trail, bookings must be made with the Addo Game Drive Office. Guests should arrive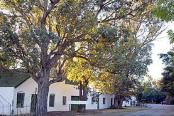 From R 300,00
Per person, per night sharing.
29.9km South East of center of Kommadagga
Built at the turn of the last Century - Sandflats Bed & Breakfast in the country village of Paterson, is a quaint establishment reminiscent of a bygone era. We offer clean and comfortable rooms with a host of facilities.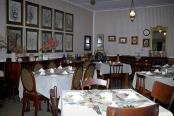 From R 300,00
Per person, per night sharing.
30.0km South East of center of Kommadagga
Sandflats Self Catering Accommodation in Paterson 2 units. Both are fully equipped. We are centrally situated within 20 to 30 minutes drive of 5 Malaria free game reserves - all offering a unique African experience.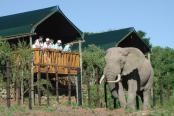 From R 280,00
Per unit, per night.
32.4km South of center of Kommadagga
The popular main Addo Rest Camp offers a wide variety of accommodation units to suit all tastes, and plenty of activities to keep visitors busy. A unique feature is the waterhole lookout point, floodlit at night, within the camp as well as the underground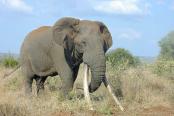 From R 930,00
Per unit, per night.
38.4km South of center of Kommadagga
Spend a night in the middle of the bush, listening to the sounds of the wild around you. You may catch a glimpse of nocturnal animals drinking at the nearby waterhole, gaze at the starry skies and enjoy simply being away from it all. The tents are located
Sleeps: 16 in 8 units/rooms
From R 350,00
Per person, per night sharing.
40.4km South of center of Kommadagga
The five luxury chalets are found on a working citrus farm only 4km away from the main gate of the Addo Elephant National Park. The elegantly decorated chalets are equipped with air-conditioners which also have a heating option and en-suite ...
From R 375,00
Per person, per night sharing.
43.5km South of center of Kommadagga
We offer a range of accommodation to suit all pockets, in six tastefully furnished, air-conditioned, en suite bedrooms. To quote a recent guest - "accommodation prepared for friends, not for paying strangers." Three of these bedrooms are in the ...
Sleeps: 132 in 18 units/rooms
From R 650,00
Per person, per night sharing.
44.2km South of center of Kommadagga
Chrislin African Lodge delivers a unique experience in Bed and Breakfast Accommodation in traditionally built huts. The well appointed en-suite rooms, each with their own separate entrances are equipped with numerous practical and personal touches...
Sleeps: 18 in 4 units/rooms
46.9km South of center of Kommadagga
Far from the madding crowd, on a hill overlooking the luscious Sunday's River Valley and on the doorstep of the world renowned Greater Addo Elephant Park, lies Kududu Guesthouse, a haven of tranquility and comfort, waiting to be discovered.
WhereToStay Kommadagga accommodation ranges from a variety of specific categories such as Kommadagga self catering accommodation to Kommadagga b and b accommodation and many more.
More sought after Kommadagga accommodation categories include Kommadagga pet-friendly and Kommadagga wheelchair-friendly accommodation. If you are specifically pursuing these Kommadagga accommodation categories, then we highly recommend that you contact the accommodation owner directly to ensure that the facilities are satisfactory and to your liking.
The Kommadagga pet-friendly accommodation and the Kommadagga wheelchair-friendly accommodation facilities can vary between large Kommadagga Hotels as well as small room only accommodation. Self catering Kommadagga accommodation will occupy the majority of these listings.
99% of all Kommadagga guest houses listed on WhereToStay will display rates for your convenience. Occasionally a Kommadagga guest house will ask you to request a quotation.
WhereToStay tries to keep the Kommadagga self catering and Kommadagga b&b standards at the highest levels relative to tariffs charged. Misleading advertising related to any listings of Kommadagga B&B and Kommadagga self catering accommodation should be reported so that WhereToStay can act accordingly.
See our full list of Kommadagga accommodation special categories at the top of this page
AFRIKAANS
WhereToStay Kommadagga Akkommodasie wissel van 'n verskeidenheid van spesifieke categoriee soos Kommadagga selfsorg akkommodasie, Kommadagga, b en b blyplekke en nog veel meer.
Meer gesogte Kommadagga slaapplek kategoriee sluit in Kommadagga troeteldier-vriendelike blyplekke en Kommadagga rolstoel-vriendelike akkommodasie.
As jy spesifiek vrae oor die voorsetting van hierdie Kommadagga blyplekke, sal dit raadsaam wees om kontak met die eienaars te maak om te verseker dat die fasiliteite bevredend is en na you hart.
Die Kommadagga troeteldier-vriendelike verblyf en Kommadagga rolstoel-vriendelike vakansie blyplekke kan wissel tussen Kommadagga Hotelle asook klein kamer akkommodasie in Kommadagga. Kommadagga selfsorg slaapplekke sal die meerderheid van hiedie inskrywings beset.
99% van alle Kommadagga gastehuise gelys op WhereToStay sal pryse vertoon vir u gerief. Soms sal 'n Kommadagga gastehuis vra om 'n kwotasie te versoek.
WhereToStay probeer om die lys van Kommadagga slaapplek standaarde op die hoogste vlakke (relatief tot tariewe) gehef hou.
Misleidende advertensies wat verband hou met enige lys van Kommadagga blyplekke moet aangemeld word sodat WhereToStay kan daarvolgens optree.