Showing 1 to 4 of 4 results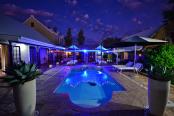 Sleeps: 109 in 46 units/rooms
This Award Winning establishment is situated on the outskirts of Kakamas on a beautiful farm setting near the world famous Augrabies Falls. The guest house offers 15 luxury and comfortable en-suite rooms each with a personal touch plus family units.
Nearby Listings
10.9km West of center of Kakamas
De Marchand is conveniently situated on the banks of the mighty Orange River. The Orange River passes on the doorstep of this farm style Guest House, on its way to a world renowned landmark, the Augrabies Falls...
Sleeps: 16 in 3 units/rooms
27.9km West of center of Kakamas
De Oude Stoor Guesthouse (7 kilometres from the majestic Augrabies Falls) is the perfect stop over on the scenic Orange River wine route - be it for one night only or a few days of total relaxation this is definitely the start of your holiday in...
28.9km West of center of Kakamas
Warm farm hospitality, beautiful climate, wonderful stargazing, overlooking the Augrabies Valley and par 3 Golf course
Nearby Towns With Accommodation