Showing 1 to 2 of 2 results
From R 450,00
Per person, per night sharing.
Gamagara Safari Lodge spans over 22 000 acres and gives you a unique feel of the bushveld in the beauty of the Kalahari. Whether you are planning a wedding, out of town conference or just an African holiday experience, Gamagara Safari Lodge is sure to pro
Nearby Listings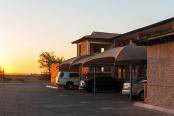 Sleeps: 156 in 78 units/rooms
From R 545,00
Per person, per night sharing.
22.7km East of center of Deben
Kathu is a town in South Africa, and the iron ore capital of the Northern Cape Province. Its name means "town under the trees", after the Camel Thorn forest it is situated in. Kathu Inn has 78 En-suite units.
Nearby Towns With Accommodation