Showing 1 to 10 of 10 results
- SAVE 25% -
Sleeps: 18 in 6 units/rooms
From R 800,00
Per unit, per night.
Dunvegan Lodge offers luxury self-catering or bed and breakfast accommodation in spacious sunny rooms, each with modern en-suite bathrooms, TV with satellite, telephone, hairdryer, safe and, for those chilly evenings, underfloor heating and electric
Nearby Listings
0.6km South of center of Clovelly
No.3 Riverside Mews is part of a secure cluster complex of only 11 houses situated in Banks road in Fish Hoek. Ideally located, the home is far enough away not to be disturbed by traffic noise yet close enough to be in easy walking distance to the...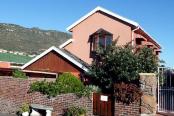 From R 200,00
Per person, per night sharing.
1.2km South of center of Clovelly
UPSTAIRS @ No. 42 is a real home from home with beautiful mountain views and conveniently appointed for a relaxing break. Drive into secure parking right at the entrance. Up the stairs you will find a lounge-dining-kitchen area - fully equipped with TV &
Sleeps: 14 in 6 units/rooms
From R 860,00
Per person, per night sharing.
1.5km South of center of Clovelly
The villa boasts 6 spacious en-suite rooms named according to the direction they face. While each room has its own special attributes all rooms have Posturepedic beds, 100% percale cotton linen and down duvets. All the bathrooms have heated towel ...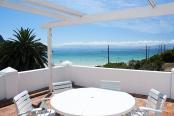 From R 1 700,00
Per unit, per night.
1.7km South of center of Clovelly
Come and stay in one of the original farm buildings in Fish Hoek, within a stone's throw of the beach.This self Catering Apartment provides spacious, well-appointed, up-market accommodation with magnificent views across False Bay.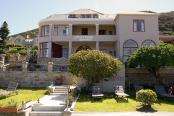 From R 650,00
Per unit, per night.
1.7km East of center of Clovelly
Chartfield Guesthouse in kalk Bay evokes the spirit of a time when everything was done with a little more style and with a lot more attention to detail. It's a haven created to whisk you away from the cares of the world the moment you step inside...
Sleeps: 6 in 3 units/rooms
1.7km South of center of Clovelly
The management of the Villa Honeywood guest house is proud to offer you a peaceful and private place in which to relax. Our suites are individually designed and furnished to make you feel at home, even if you're a long way from home. As our guest ...
From R 999,00
Per unit, per night.
1.7km South of center of Clovelly
Blue Yonder enjoys one of Fish Hoek's most enviable locations. Ideally situated on the mountain slope, these self catering apartments combine luxurious holiday accommodation with breathtaking views of the beach and sea. Fish Hoek beach offers exce
From R 1 350,00
Per unit, per night.
1.9km South of center of Clovelly
Self catering family home situated on the Fish Hoek mountainside directly above the most popular swimming beach.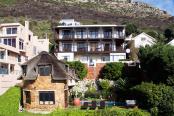 Sleeps: 21 in 6 units/rooms
From R 1 800,00
Per unit, per night.
2.1km South East of center of Clovelly
Under New Management, A Whale of a Time is now owned by Archie Theunissen and Ivan York, two business partners who are committed to ensuring that your stay at A Whale of a time is a memorable one!
---
Clovelly
The scenic suburb of Clovelly is hidden away behind the Kalk Bay mountain slopes, and overlooks Fish Hoek and the Silvermine Valley. The suburb was originally established as a fertile vegetable garden, supplying ships anchoring in Simons Town and was then called Klein Tuin which means Little Garden. Clovelly is today a quaint and quiet suburb consisting of just a few hundred houses. It is actually so quiet that it has managed to remain a well-kept secret, not even many Capetonians known where it is! The lower boundary of Clovelly is marked by the Silvermine River, which is surrounded by a wetland nature reserve. This haven for waterbirds is packed with indigenous reeds and other gems unique to the Cape Floral Kingdom, and has a network of boardwalks perfect for visitors to go for a gentle stroll.

Attractions
The soft white sands of Clovelly Beach have been the starting point for relaxing morning and evening strolls around the Fish Hoek bay for generations and a small offshore ridge gives junior surfers a perfect little practice wave. Clovelly Beach provides a peaceful alternative to the busy Fish Hoek side of the bay.
Considered as one of the finest golf courses in South Africa, Clovelly Country Club is famous for its rolling, computer-irrigated fairways and undulating holes complementing its rich coastal environment. The club is set in the pristine and tranquil Silvermine Valley close to Fish Hoek, and offers its members and visitors a memorable experience. The Silvermine River, natural sand dunes and trees line the fairways with water features and a wide variety of birdlife such as guinea fowl, pheasant and steppe buzzards. Adjoining the club house is a pro shop, restaurant and driving range.
The Clovelly Wetland Walk undulates through a wonderful example of restored wetlands in an urban setting, which is a haven for various forms of wildlife, most notably birds. Visitors can enjoy a nice walk amongst this natural ecosystem. The walk is easy enough for beginners and kids, and is well marked and fun. To make sure you see all the wildlife in the wetlands, dont forget to bring your binoculars.