Showing 1 to 10 of 10 results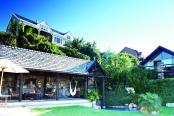 Sleeps: 14 in 6 units/rooms
From R 850,00
Per unit, per night.
Self Catering Villas with uninterrupted views overlooking Noordhoek Valley to the Atlantic Ocean, offer privacy and comfort in a contemporary African setting. Bask in the African sun at the pool.
Nearby Listings
Sleeps: 31 in 6 units/rooms
5.0km North East of center of Capri Village
Dunvegan Lodge offers luxury self-catering or bed and breakfast accommodation in spacious sunny rooms, each with modern en-suite bathrooms, TV with satellite, telephone, hairdryer, safe and, for those chilly evenings, underfloor heating and electric
This luxurious double storey beachfront villa in Scarborough offers privacy, beauty and security. If you seek a safe and peaceful beach retreat within easy reach of the Cape Town Buzz, don't miss here.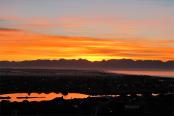 Sleeps: 14 in 7 units/rooms
8.8km North East of center of Capri Village
Bluebottle Guesthouse is nestled on the slopes of the Muizenberg Mountain. The guesthouse offers a breath-taking panoramic view of False bay from Cape Hangklip on the one end of the bay to Cape Point on the other.
10.1km North West of center of Capri Village
This Cape Dutch house, homely decorated with Colonial and African influences, consists of 5 spacious bedrooms, 2 lounges with French doors leading onto the garden with sparkling pool and Jacuzzi, 2 fully equipped kitchens and 4 bathrooms. Outside ...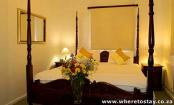 Uniquely situated in the Cape Peninsula,Constantia Valley, amidst vineyards and elegant estates, Biancalba Guest House is renowned for traditional Italian hospitality, cuisine and "la gioia di vita". We can accommodate 12 persons.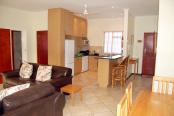 Sleeps: 51 in 13 units/rooms
From R 820,00
Per unit, per night.
Various sized and priced self catering garden suites and 2/3/4 bed houses.20 minutes from Cape Town. From R 570/night/unit. Private entrance and patios. Secure off street parking,free Internet, Laundry, Pool, Dstv. Can sleep up to 30 persons.
Sleeps: 47 in 6 units/rooms
11.9km North West of center of Capri Village
"Valley House" is the name of our self-catering holiday home. It is set on the upper slope of our guest farm. It is a luxurious country experience enhanced by carefully selected furnishings and fabrics. It is a large home that can be rented as 1 ...
Sleeps: 15 in 4 units/rooms
From R 600,00
Per unit, per night.
12.1km North West of center of Capri Village
The accommodation at KARRAD in Hout Bay is ideal for selfcatering or B&B. One bedroom, two bedroom or a three bedroomed cottage at reasonable rates. Lovely pastoral setting with mountain views.
Sleeps: 12 in 4 units/rooms
12.6km North West of center of Capri Village
Manor Fest Mountain Cabins is located on a tranquil mountainside just below the pass between Llandudno and Hout Bay. It is the perfect place for a romantic getaway; a family reunion; or a relaxing holiday. It is rustic, relaxed, homely and peaceful.
Back to Capri Village Overview
Cape Town Sleeps 10 or More Accommodation
Capri Village Special Accommodation Categories