Garden Route Dam
Garden Route Dam


When in the George area a visit to the Garden Route Dam is a wonderful outing where one can enjoy the tranquil setting of the dam edged with fynbos and forest. The Dam is a major source of drinking water for the town of George and during dry periods the water levels in the dam drop considerably but besides this the area is still beautiful and there are various short trails where you can drive and picnic and enjoy a great view. It is a tranquil spot and great for the family picnic, and if you are keen to take a short hike you can also reach a swimming area called Pepsi pools from here.

As the Garden Route Dam is visited by thousands of tourists and visitors annually local municipality has had to implement certain measures in order to preserve and protect the environment and water resources and to ensure a healthy ecosystem. As such the main entrance to the Garden Route Dam is monitored by a security officer and all people entering the gate are required to sign a register. Furthermore, people who wish to visit the dam 30 minutes after sunset need to apply for a permit beforehand. These permits can be obtained in George, from the offices of the Law Enforcement Section in Cathedral Street at the back of the Fire Section building.
Accommodation Near Garden Route Dam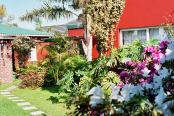 4.9km West of Garden Route Dam
Relax in comfortable, cosy accommodation in a quiet and pleasant suburb. Easy access from N2 route and airport. The Red House is only a five minute walk to George town centre, museum, restaurants and take-aways.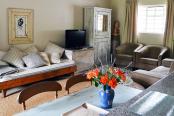 5.3km West of Garden Route Dam
Lollypop is a delightful self catering cottage situated in the heart of the Garden Route town of George It is a cottage situated in a huge lush garden, free standing from the main colonial style house It is tucked away in a tree-lined suburb...
Sleeps: 26 in 11 units/rooms
5.3km West of Garden Route Dam
Die Waenhuis Guest House is in the elegant Caledon Street within walking distance of the business center of George and some outstanding restaurants. Ideal for business people and tourists visiting the garden route.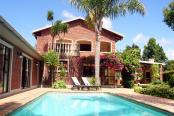 Sleeps: 12 in 5 units/rooms
5.4km West of Garden Route Dam
Our non-smoking double bedrooms are beautifully decorated and comfortable. Each has its own en-suite bathroom and private entrance. The rooms are equipped with their own tea and coffee facilities, a television, desk, hairdryer, fan and heaters...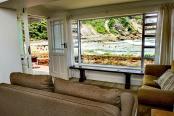 Sleeps: 13 in 3 units/rooms
5.7km South East of Garden Route Dam
Self catering house and 2 Bachelor units on the beach-front in Victoria Bay. These non-graded, rustics facilities, offer dream holidays in one of this country's hidden treasures. Truly a surfing, swimming and fishing paradise.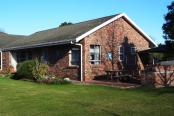 5.7km West of Garden Route Dam
We offer you private accommodation in an upmarket tranquil suburb of George. Ideally suited for a family, or the guest who seeks peace and quiet. Accommodation is large, modern and, comfortable.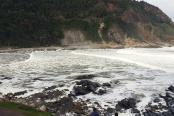 5.7km South East of Garden Route Dam
Palm Beach Flatlets in Victoria Bay offers 3 self catering flatlets with breathtaking view of the ocean.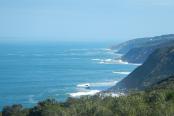 6.0km South East of Garden Route Dam
In the heart of the Cape Garden Route, on the edge of the ocean and amidst glorious fynbos, you find this luxurious secluded holiday home. Situated in a private nature reserve within 20 minutes from George Airport ...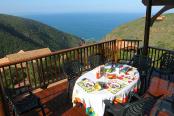 6.0km South East of Garden Route Dam
Serendipity is situated in a private nature / game reserve with views of the sea and the Outeniqua mountains from George to Knysna. The luxurious self catering wooden lodge sleeps six in private and is fully equipped, including Jacuzzi.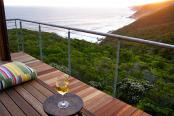 Sleeps: 10 in 2 units/rooms
6.1km South East of Garden Route Dam
Situated in a protected nature reserve perched high on the cliffs and surrounded by forest, fynbos and ocean this is an ideal hideaway for those seeking peace and tranquility.