Island Lake
Island Lake


The Garden Route is home to two exceptional tourist destinations George and Knysna, and tucked away between these you will find the beautiful and popular Wilderness National Park. The Park protects three major zones of indigenous forest, four types of Fynbos (wild shrubs), lakes and winding waterways. There is a series of lakes that are joined by the Touws River and that fall into the park. These Lakes are Eilandvlei, Langvlei and Rondevlei.

Eilandvlei is an Afrikaans word which means Island Lake, and the 150 hectare lake gets its name from the Drommedaris Island at its centre. The lake is very popular with tourists and offers various activities. These activities include water skiing on the lake, swimming or simply relaxing on the water's edge. Wilderness Island Lake provides fishermen and canoeists a great hybrid habitat to explore. Further down from the lake, the Serpentine and Touw rivers interconnect to offer the angler another habitat to explore, best done via canoe. Island Lake is renowned for its big leervis, black bass and blue kurper. In the Touw River you'll find large schools of grunter, leervis, cape moonies and mullet. (Fishing permits can be acquired from the local post office.) The lake is also host to a variety of aquatic species and has with the other two lakes been proclaimed as a Ramsar site (wetlands of international importance). Visitors to the area can spot five types of Kingfisher, the Grey Heron and Little Egret and the brightly coloured Knysna Loerie in the surrounding forests.
Accommodation Near Island Lake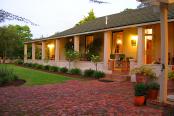 Sleeps: 10 in 4 units/rooms
1.1km North East of Island Lake
The Old Trading Post - Guests can book either on a Bed & Breakfast, Self-catering or Bed only basis, depending on the room chosen. Braai facilities are available. Children and pets are welcome.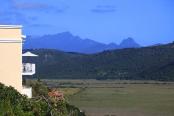 1.1km South West of Island Lake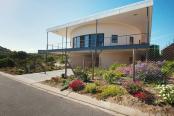 Sleeps: 64 in 8 units/rooms
1.5km South East of Island Lake
Cape Footprints a self Catering Cottage in Wilderness, Garden Route, Western Cape, South Africa is a spacious modern house constructed using sandbags in the image of two footprints.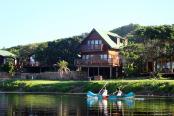 4.4km South West of Island Lake
At Rest is a charming self-catering log cabin at Pirates Creek, in the heart of the Garden Route in the Wilderness National Park, 200 m from the beach. It is a popular weekend and holiday breakaway destination with something to offer for the whole...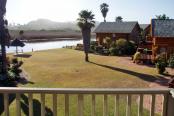 4.5km South West of Island Lake
Set against the backdrop of a leafy mountain forest and overlooking the Touws River, Riverside Hide-s-Way is a superior self catering house situated in Pirates Creek, Wilderness. 3 stylish, comfortable rooms, en-suite bathrooms...
Sleeps: 6 in 3 units/rooms
4.6km West of Island Lake
It has 3 luxury Chalets carefully positioned as to offer maximum privacy. All chalets have king size extra length beds. Linen is the finest Percale cotton. The chalets have ceiling fans for balmy nights, and...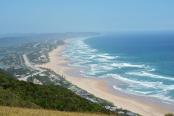 Sleeps: 7 in 2 units/rooms
4.7km South West of Island Lake
Quantum Lights offers you a self-catering flat in Pirates Creek a security village, situated on the Touws River. Come and enjoy our peaceful surroundings and spectacular sunsets.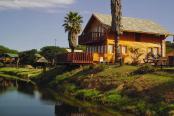 4.7km South West of Island Lake
Pirates Creek is situated on the Banks of The Touws River in Wilderness. Pirates Creek is surrounded by majestic hills and long white beaches.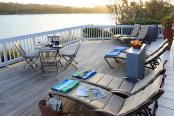 Sleeps: 8 in 4 units/rooms
4.8km South West of Island Lake
We have four en-suite bedrooms with quality linen, underfloor heating and ceiling fans. Guest Lounge with fire place and library is inviting and softly furnished to pamper. Delectable country breakfasts are served in the breakfast room or outside...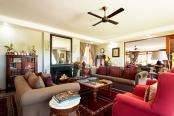 Sleeps: 8 in 4 units/rooms
5.3km West of Island Lake
Wilderness Manor an elegant and refined guest house overlooking the Wilderness Lagoon, in the scenic village of Wilderness. Step out of the front door and cross the road onto the boardwalk for an easy and safe stroll to golden beaches, restaurants and...