Bo-Langvlei
Bo-Langvlei


The Garden Route is home to two exceptional tourist destinations George and Knysna, and tucked away between these you will find the beautiful and popular Wilderness National Park. The Park protects three major zones of indigenous forest, four types of Fynbos (wild shrubs), lakes and winding waterways. There is a series of lakes that are joined by the Touws River and that fall into the park. These Lakes are Eilandvlei, Langvlei and Rondevlei.

Bo-Langvlei or Upper Langlvlei lies 3 Kilometres from Kleinkrantz and along with Rondevlei frequently support the most diverse and abundant water bird communities. Surveys on Langvlei alone indicate that at times water bird abundance can exceed 7000 individuals. These are made up of over 65 different species. This abundance of water birds, and in particular ducks and geese which are often made up of nine different species, represents the largest concentration of species and individuals along the southern and eastern Cape coasts.

It is important to note that Rondevlei, Bo-Langvlei and the channels between them were designated as fishing exclusion areas, under the Ramsar Site, to prevent the impacts associated with fishing and bait collection.
Accommodation Near Bo-Langvlei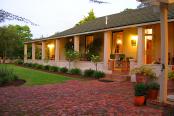 Sleeps: 10 in 4 units/rooms
2.9km South West of Bo-Langvlei
The Old Trading Post - Guests can book either on a Bed & Breakfast, Self-catering or Bed only basis, depending on the room chosen. Braai facilities are available. Children and pets are welcome.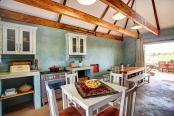 3.0km North of Bo-Langvlei
Libertas Guest Farm offers self-catering accommodation on a working dairy farm in the idyllic lakes area in the heart of the Garden Route. The newly renovated farmhouse sleeps a total of 12 and offers an ideal getaway for larger families...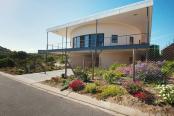 Sleeps: 64 in 8 units/rooms
3.4km South West of Bo-Langvlei
Cape Footprints a self Catering Cottage in Wilderness, Garden Route, Western Cape, South Africa is a spacious modern house constructed using sandbags in the image of two footprints.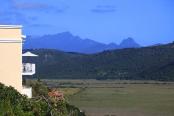 4.9km South West of Bo-Langvlei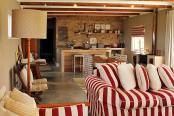 5.1km North of Bo-Langvlei
The Dairy literally was an old dairy which has been turned into a modern, sunny, spacious accommodation unit. The house looks onto an unfenced farm dam and has great views of the Outeniqua Mountains.
Sleeps: 48 in 10 units/rooms
5.7km North West of Bo-Langvlei
Oakhurst is one of the original large properties of the Garden Route situated in the Wilderness district, near George. There are 11 different self catering units available.
Sleeps: 6 in 3 units/rooms
8.2km West of Bo-Langvlei
It has 3 luxury Chalets carefully positioned as to offer maximum privacy. All chalets have king size extra length beds. Linen is the finest Percale cotton. The chalets have ceiling fans for balmy nights, and...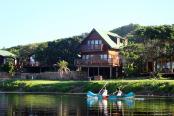 8.3km South West of Bo-Langvlei
At Rest is a charming self-catering log cabin at Pirates Creek, in the heart of the Garden Route in the Wilderness National Park, 200 m from the beach. It is a popular weekend and holiday breakaway destination with something to offer for the whole...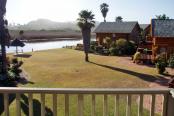 8.4km South West of Bo-Langvlei
Set against the backdrop of a leafy mountain forest and overlooking the Touws River, Riverside Hide-s-Way is a superior self catering house situated in Pirates Creek, Wilderness. 3 stylish, comfortable rooms, en-suite bathrooms...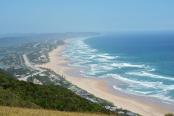 Sleeps: 7 in 2 units/rooms
8.6km South West of Bo-Langvlei
Quantum Lights offers you a self-catering flat in Pirates Creek a security village, situated on the Touws River. Come and enjoy our peaceful surroundings and spectacular sunsets.