Rudd House
The Rudd House is situated in Loch Road in Belgravia in the North Western Province of South Africa. The Rudd House, once known as "The Bungalow" was built on a Plot 931 in the late 1880's and eventually in 1896 it was transferred to Charles Dunnel Rudd.

History:
Charles Dunnel Rudd was born in 1844 and arrived on the Diamond Fields in 1870. In 1871, Cecil John Rhodes joined him and they became business partners. They formed the De Beers Mining Company in 1880, with Charles as chairman and managing director and Cecil as the company's first secretary.
In 1898, Charles' son, Henry Percy Rudd became the owner of "The Bungalow" and on his death in 1961, left the house to his widow, Emilie. She returned to the Rudd House and lived there until her death in 1963. In 1968, Dr Richard Liversidge, the director of the McGregor Museum at the time, approached De Beers Consolidated Mines Ltd. He wanted the compant to buy the house and donate it to the museum. The McGregor Museum restored the Rudd House and it was opened to the public in 1988. In 1990 it was declared a national monument.

For more information contact +27(0)53-842-0099. The Rudd House may be viewed by appointment only with a maximum of 15 persons per group.
Nearby Listings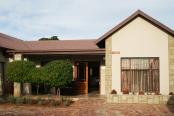 0.6km East of center of Rudd House
Oak Rest Bed & Breakfast, in Kimberley, offers its guests 11 en suite luxury rooms with secure parking. We have a tranquil atmosphere underneath a huge Oak Tree, ideal for the modern traveler.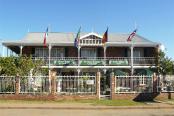 2.2km West of center of Rudd House
Nine Luxury Rooms - Five luxury en-suite rooms are situated on the top floor and Four on the ground floor. Comfort, luxury and elegance are experienced in every bedroom. Each bedroom is individually decorated to the highest standards and...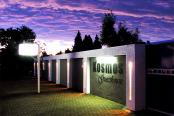 Sleeps: 26 in 10 units/rooms
3.1km South West of center of Rudd House
KOSMOS Guest House offers an ideal stay-over spot for anyone needing a peaceful overnight stay with guaranteed Northern Cape hospitality.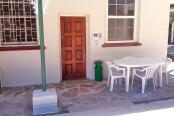 Sleeps: 131 in 41 units/rooms
From
R 180,00
Per person, per night sharing.
* Rates may vary according to season
3.3km North East of center of Rudd House
Accommodation comprises 150 beds, We cater for tourists and school groups. Bedding and linen is provided in all cases. Facilities include swimming pool and restaurant. Visitors come from far and wide to see the historical sites of the diamond city.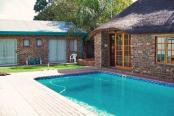 Sleeps: 15 in 5 units/rooms
3.5km South West of center of Rudd House
Eden Guesthouse is situated in the suburb of Hadison Park in Kimberley and offers 5 fully equipped double and single bedrooms sleeping 1 to 4 persons. Within 2 - 10 kms of The Big Hole", Airport, Car hire, Flamingo Casino, Absa Park Stadium...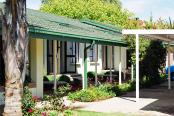 3.8km West of center of Rudd House
At Judy's is a guesthouse situated in Kimberley, Northern Cape, South Africa. Kimberley with its big hole and other attractions is a favorite among travelers around the world.
Sleeps: 22 in 8 units/rooms
6.4km South of center of Rudd House
Little Farm Self Catering Lodge is situated 3.7 km from the edge of town on the N12 Road to Cape Town in a secure, tranquil and country environment and creates a peaceful stay over atmosphere. The Lodge (chalets) form part of a 20 ha estate and is...
Sleeps: 25 in 4 units/rooms
From
R 625,00
Per unit, per night.
* Rates may vary according to season
17.3km South West of center of Rudd House
Mein Heim is a beautiful farm only 15 minutes drive from Kimberley city centre. Get away from the city and experience the tranquillity of nature. There are four fully equipped units of various sizes. Pets are also welcome by prior arrangement.