Delheim Anna Foundation MTB
Delheim Anna Foundation MTB
The Delheim Anna Foundation MTB Race is an annual event which is held in Stellenbosch in the Western Cape, South Africa. The Delheim Wine Farm is a historic family owned estate and will be open to the public for the race. It is the only day that runners and mountain bikers are allowed to access the scenic farm and its surrounds.

There are three distances to choose from, the 12km route is quite a challenge but enjoyable and worth it. The 12km can be attempted twice to become 24km and then the 7km race which is a loop route, this route is enjoyable for the whole family. The whole day is enjoyable and exciting for the whole family. The views are panoramic and you can see as far as Table Mountain. All the routes are open to trail runners as well as Mountain Bike Racers. Prizes are awarded at the end of the races. There will also be lucky draws from Delheim estate.

Registration opens at 7am at the Delheim Wine Estate and the first race starts at 8:30am and ends at 3pm.
Entrance fee ranges from R40 to R100 depending on the race you will enter.

Donations will be given in support of the Anna Foundation. The Anna Foundation is a non profit group for children who live on the farms. The foundation also introduces underprivileged children to a variety of sports which includes mountain biking. For more information on the Anna Foundation visit www.annafoundation.com

For more information regarding race entries and the race, visit www.dirtopia.co.za, email theteam@dirtopia.co.za or phone the Dirtopia Trail centre on +27(0)21-884-4752.
Accommodation Near Delheim Anna Foundation MTB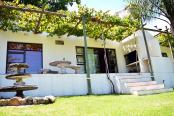 Sleeps: 24 in 6 units/rooms
5.2km North West of Delheim Anna Foundation MTB
In the Vineyard self catering cottages are situated on Uitkyk farm, a small family owned vineyard and olive farm, nestled at the foot of the Simonsberg mountains in Klapmuts, Stellenbosch. Enjoy the beauty and peace of nature that surrounds you.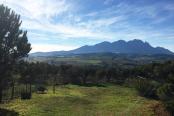 Sleeps: 10 in 2 units/rooms
5.6km South West of Delheim Anna Foundation MTB
Smiths @ Casa De Molteno, this cottage is a rustic, fully furnished, two-bedroom holiday with a stunning mountain-view located on the R304 just 4km's from Stellenbosch, South Africa.
6.8km South of Delheim Anna Foundation MTB
Only 2 minutes form the Stellenbosch town centre, each of our 3 self catering apartments has a separate entrance and kitchenette. 7 min from Stellenbosch Golf Course.
7.0km South of Delheim Anna Foundation MTB
A mere 5 minute walk from the village of Stellenbosch and the University. 10 stylishly decorated luxurious, en-suite rooms, furnished with beautiful antiques and a touch of Africa. Air-conditioner/heater, satellite television, mini-bar, tea/coffee...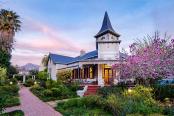 Sleeps: 40 in 21 units/rooms
7.0km South of Delheim Anna Foundation MTB
Bonne Esperance Guest Lodge is a charming Victorian Villa in the heart of Stellenbosch with a wrap-around veranda, cast iron mouldings and corner-turret.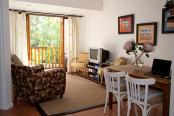 7.0km South of Delheim Anna Foundation MTB
Het Logement is an upmarket, self-catering apartment situated in a small block of flats, called Meulstroom in Stellenbosch. It is surrounded by historical houses, centrally situated yet in a quiet area..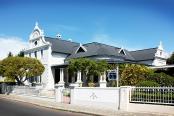 Sleeps: 36 in 15 units/rooms
7.1km South of Delheim Anna Foundation MTB
Caledon Villa embodies warm South African hospitality, culture and history. It is located within walking distance from the heart of historical Stellenbosch, from the vibrant campus of the University and from the peaceful flowing Eerste River.
7.1km South of Delheim Anna Foundation MTB
Stellenbosch Apartment is a two bedroom self catering apartment close to the historic town centre of Stellenbosch. Is is on the ground floor of a small apartment block and has a beautiful private garden with braai/barbeque facilities. Airport ...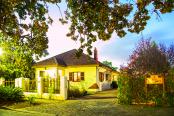 7.1km South of Delheim Anna Foundation MTB
Malans Guest House is situated in a quiet cul-de-sac in the historic centre of Stellenbosch. In this solid 1937 built house there are 5 double bedrooms, lounge with fireplace, reading room, and breakfast room.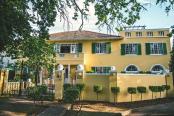 Sleeps: 43 in 11 units/rooms
7.1km South of Delheim Anna Foundation MTB
A warm-hearted villa in the centre of historic Stellenbosch. This elegant renovated 1920's villa offers a serene retreat within easy walking distance of the diverse attractions this vibrant University town offers.