Swartvlei Lake
Swartvlei Lake
Swartvlei Lake is one of many lakes situated in the Wilderness National Park in the Western Cape, South Africa. It is the longest and deepest of them all. The lake attracts a variety of bird species which is a huge attraction for avid bird watchers. The lake is also popular amongst local and visiting fishermen. For six months of the year the Swartvlei Lake is connected to the sea.
This is a lovely area to relax with family and enjoy the nature that surrounds you. The views alone are majestic. Add this destination to your vacation list, you wont be disappointed.
Accommodation Near Swartvlei Lake
Sleeps: 7 in 2 units/rooms
2.9km East of Swartvlei Lake
It is a spacious and comfortable cottage with a main bedroom and bathroom en-suite (shower only). Also a lounge / dining room and kitchenette. The lounge has TV and a full, double-bed-size sleeper couch.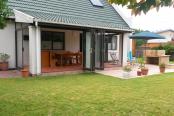 2.9km South East of Swartvlei Lake
Relax and enjoy your holiday in this comfortable and well-appointed self-catering cottage on the Island in Sedgefield.
3.1km East of Swartvlei Lake
House, the Island, Sedgefield, in the heart of the Garden Route. 3 Bedroomed house with 2 bathrooms (MES), open plan lounge, dining room & fully equipped kitchen. Large stand with outside entertainment area, swimming pool, double swings...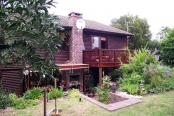 3.3km South East of Swartvlei Lake
Islandwood offers a self-catering unit, housed on the ground floor of a wooden house. The accommodation is perfect for two adults, plus two children/adults (in the bunk beds), the bathroom being accessible from both bedroom and living area....
3.5km South East of Swartvlei Lake
Chateau Anri LaMer is a self catering home situated on the banks of the Swartvlei lagoon at the lovely town of Sedgefield in the heart of the garden route. Sedgefield has three lovely beaches and also offers safe swimming in the lagoon mouth...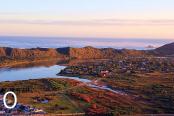 4.0km East of Swartvlei Lake
This is the perfect holiday house (8 sleeper) to spend a relaxed carefree holiday in Sedgefield.The house has a spacious open plan living area, 4 bedrooms, 2 full bathrooms and a well equipped kitchen. A large covered patio onto a garden allows you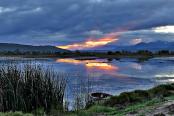 5.0km East of Swartvlei Lake
This is a private and luxurious, upstairs Self-catering Apartment that overlooks the Swartvlei Lagoon and sleeps 2 people. This accommodation is ideally suited for overseas visitors with longer stays in mind.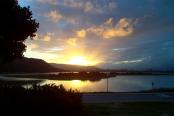 Sleeps: 36 in 6 units/rooms
5.1km East of Swartvlei Lake
Waters' Edge is a comfortable, self catering, holiday house for family and friends on the waters' edge. It is centrally situated with an easy walk to the village and to the beach, and has an uninterrupted view across lagoon and river, to the...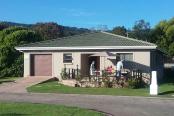 5.1km East of Swartvlei Lake
A warm welcome awaits you at Annie's Cottage, a comfortable self-catering home from home in a modern single storey house in a gated complex in Sedgefield. The cottage is well placed being less than 2 minutes' walk from the lagoon and within a 5 minute dri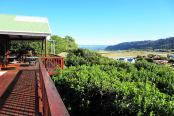 5.2km East of Swartvlei Lake
This charming, relaxing holiday home is situated high on the dune amongst the milkwood trees, sheltered from the coastal winds. It has spectacular views of Cloud Nine and Sedgefield lagoon, with the Outeniqua mountains in the background. The milkwood